When this news goes out, we'll be running classes at Auto Club Dragway in Fontana, CA before heading back to our home track at Gainesville Raceway for the winter and spring.  We'd like to feature some of our grads in an upcoming newsletter, so please send us your pictures and news!  In the meantime, if you've already been to the school, tell people about the programs, and please "like" and review us on our Facebook page.  We are grateful to continue to help people get started in racing, or help them fulfill a lifelong dream!  Our grads are our best endorsement and we are thankful for you all!
For those out there considering attending the school, listed below are winter dates in Gainesville, along with some of the travel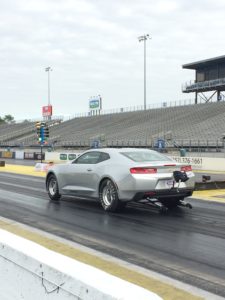 dates that have been confirmed at Auto Club Dragway in Fontana, Route 66 Raceway in Joliet, Summit Motorsports Park in Norwalk and Maple Grove Raceway in Reading. We hope to confirm additional dates shortly at Gainesville Raceway, along with remote class dates at Tucson Dragway, Royal Purple Raceway, Heartland Park Topeka and Woodburn Dragstrip.
The December classes between Christmas and New Years are extremely popular and this year the calendar worked out where we are able to offer TWO classes during this time.  These are very popular for the up and coming racers out there as they are on school break, and also many people have this time off work.  Don't delay if you may be thinking about attending during one of these classes, as both class dates are half full already!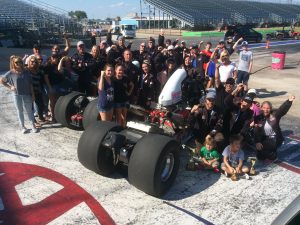 Our very knowledgeable guys, Paul Shields and Jeff Arend, are responsive to your calls, texts and emails so feel free to contact them with any and all questions you have about the school, what you're trying to accomplish, whether you want to bring your own car, arrange a group event, just have some fun, buy a gift for someone, or even treat a potential sponsor or significant other to a taste of drag racing, etc. Their direct contacts are listed at the end of this email.
Below is a list of confirmed class dates.  Please check back as we will be confirming other dates soon!  **Additional dates for Group Events, TD/NFC are on demand
November 9, 2016 — TD/NFC – Gainesville Raceway
November 10-11, 2016 — SC/SG/BYOC – Gainesville Raceway
November 17, 2016 — TD/NFC – Gainesville Raceway
December 2, 2016 — Dragster Adventure – Gainesville Raceway (click here to book)
December 6-7, 2016 — SC/SG/BYOC – Gainesville Raceway
December 8-9, 2016 — TD – Gainesville Raceway (FULL)
December 10, 2016 — Corporate Dragster Adventure Group (Private)
December 27-28, 2016 — SC/SG/BYOC – Gainesville Raceway
December 29-30, 2016 — SC/SG/BYOC – Gainesville Raceway
January 17-18, 2017 — SC/SG/BYOC – Gainesville Raceway
January 25, 2017 — TD – Gainesville Raceway
February 14-15, 2017 — SC/SG/BYOC – Gainesville Raceway
February 21, 2017 — TD/NFC – Gainesville Raceway
February 23, 2017 — TD/NFC – Gainesville Raceway
February 28-Mar 1, 2017 — SC/SG/BYOC – Gainesville Raceway
March 21-22, 2017 — SC/SG/BYOC – Gainesville Raceway (after Gatornationals, cost $1695)
March 24, 2017 — Dragster Adventure – Gainesville Raceway (click here to book)
March 28, 2017 — TD/NFC – Gainesville Raceway
April 12-13, 2017 — SC/SG/BYOC – Auto Club Dragway, Fontana, CA
April 14, 2017 — Dragster Adventure – Auto Club Dragway, Fontana, CA (click here to book)
April 15, 2017 — Dragster Adventure – Auto Club Dragway, Fontana, CA (click here to book)
April 19-20, 2017 — SC/SG/BYOC – Auto Club Dragway, Fontana, CA
April 21, 2017 — Dragster Adventure – Auto Club Dragway, Fontana, CA (click here to book)
June 21-22, 2017 — SC/SG/BYOC – Route 66 Raceway, Joliet, IL
June 23, 2017 — Dragster Adventure – Route 66 Raceway, Joliet, IL (click here to book)
June 24, 2017 — Dragster Adventure – Route 66 Raceway, Joliet, IL (click here to book)
July 17-18, 2017 — SC/SG/BYOC – Summit Motorsports Park, Norwalk, OH
July 19, 2017 — Corporate Dragster Adventure Group (Private)
July 20, 2017 — Dragster Adventure – Summit Motorsports Park, Norwalk, OH (click here to book)
August 15-16, 2017 — SC/SG/BYOC – Maple Grove Raceway, Reading, PA
August 17, 2017 — Dragster Adventure – Maple Grove Raceway, Reading, PA (click here to book)
August 18, 2017 — Dragster Adventure – Maple Grove Raceway, Reading, PA (click here to book)
October 18-19, 2017 — SC/SG/BYOC – Auto Club Dragway, Fontana, CA
October 20, 2017 — Dragster Adventure – Auto Club Dragway, Fontana, CA (click here to book)
October 26, 2017 — Dragster Adventure – Auto Club Dragway, Fontana, CA (click here to book)
October 27, 2017 — Dragster Adventure – Auto Club Dragway, Fontana, CA (click here to book)
** Dates subject to change, so please check back
For information on all our programs contact…
Paul Shields, 866-480-7223 x102, 904-472-6312 cell, pshields@frankhawley.com
Jeff Arend, 866-480-7223 x103, 909-973-8279 cell, jarend@frankhawley.com
www.frankhawley.com
866-480-7223