5 seconds…230 MPH Real Power . . . Real Speed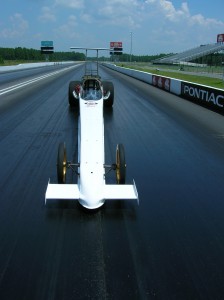 The alcohol cars have absolutely explosive power and acceleration and are often described as some of the most difficult cars to drive.  The driver needs lightning quick reactions, excellent coordination and serious determination. Because of the challenge facing the alcohol driver, a strong previous racing history is required.  The alcohol cars are equipped with Brad Anderson Hemi engines, PSI screw chargers,  and Lenco 3 speed transmissions . . . just like the pros use. Rev it up and let it go with 60 foot times well under one second!
Students can add their name to the list of Frank Hawley's Alcohol Course Graduates… Jack Beckman, Antron Brown, Robert Hight, Tony Schumacher, Courtney Force, Brittney Force, Matt Hagan, Alexis DeJoria, Doug Kalitta, JR Todd, Steve Torrance, Tony Pedregon, and more.  Each of these professional drivers, and many more, chose Frank Hawley's Drag Racing School Alcohol Course as their first step to the professional ranks.
The program starts with classroom instruction and driving equipment fitting. This is followed by an introduction to the car and its controls. After a "warm-up" procedure in the pit area the focus moves on to the track.  On each run the driver's performance is recorded and reviewed from three separate sources.  Video is recorded from outside the car and inside the car on a Replay camera and the Racepak data recorder keeps track of everything else.  Drivers begin by making a short "launch" from the starting line and will progress to longer runs as skill and confidence increase.
Successful drivers will earn an NHRA Top Alcohol Dragster Competition Driver's License. The privilege to race these cars at most race tracks across the country is limited to those holding a valid NHRA competition driver's license.
Tuition – $7995.00