Brandon Smith, Royal Purple Raceway, Houston, TX
"This was such a fun day!"
Dennis Drath, Auto Club Dragway, Fontana, CA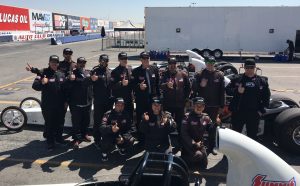 Mickey Thompson Day, Auto Club Dragway, Fontana, CA
Stewart Lindbeck, Auto Club Dragway, Fontana, CA
Marty Gould, Auto Club Dragway, Fontana, CA
Marty is our first two-time winner!
Charlie Heinz, Tucson Dragway, Tucson, AZ
Brett Card, Ga
inesville Raceway, Gainesville, FL
"A big thank you to Frank Hawley and his crew.  My dad and I were given tickets to participate in the dragster adventure challenge as a Christmas gift and had the time of our life, so much that we are already planning a trip back.  I had never driven a dragster before or been down a drag strip but Frank's teachings were more than helpful in getting me feeling comfortable and prepared to do both.  The crew guys offered great advice and words of confidence before and after each run.  Making driving the car easy to learn and enjoyable to do so.  Thanks again to Frank and the guys for an incredible day!"
Bill Buckley, Gainesville Raceway, Gainesville, FL
Shirley Ti, Auto Club Dragway, Fontana, CA
Mike Molloy – Auto Club Dragway, Fontana, CA
Walt Rouleau – Auto Club Dragway, Fontana, CA
"My friends and I want to thank Frank Hawley and crew along with Jack Beckman for the fantastic day we had at the Dragster Adventure Challenge.  We had soooo much fun !!!  You guys run a well organized, safe, and did I mention FUN class that we have told all our friends about.  We will definitely be back for another class next year.  My good friend Kurt put together our group in conjunction with Jack Beckman and the Infinite Hero Foundation where we all contributed extra money to this great cause.  They fund programs that drive innovation and accessibility of effective treatments for military heroes and their families dealing with service-related mental and physical injuries.  'Fast Jack' Beckman carries Infinite Hero Foundation challenge coins in his Funny Car on each lap down the track.  He then signs the coins with the track location and speed of the pass.  The coins are available for purchase of a $100 donation to Infinite Hero Foundation.  I purchased a coin from Jack just before we started our race, it was from St Louis where he was the Funny Car winner at 3.92 seconds, 324 mph, and I put the coin in my pocket for good luck.  I think Karma was on my side as I went 4 rounds and won the final race!  Now this coin has been in 2 winner circles!!  Thanks again for all the fun times and great racing…"
Alexandra Dougherty – Heartland Park, Topeka, KS
"I had an awesome time and made a memory to last a lifetime!"  We would like to extend our thanks to Frank and all of your crew for coming to Topeka and giving so many people opportunities to experience Drag Racing on a higher level than most will ever have the chance to see otherwise.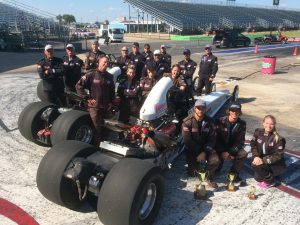 Imperial Construction Day – Texas Motorplex, Dallas, TX
The owners of Imperial Construction put together an Adventure day for employees and contractors that work with their company.  Christopher Bryan took the win light!
Nancy Tkatch – Maple Grove Raceway, Reading, PA
A GREAT BIG thank you to Frank Hawley and crew for an experience of a lifetime at Maple Grove Raceway. The Dragster Adventure Challenge was the best way for both of us to spend our 38th wedding anniversary. And, the icing on the cake…..I won the competition portion of the day! You run a terrific school and kudos to all for a job well done! Highly recommend it without reservation.
Dan
Kahn – Maple Grove Raceway, Reading, PA
Frank Ma
donia – Summit Motorsports Park, Norwalk, OH
"Thank you and your great staff Frank, for the absolute best and most fun Dragster Adventure…This was my first time behind the wheel of a dragster and winning the Dragster Challenge at Summit Motorsports Park in Norwalk made it even better…What a great experience!  Really looking forward to next time."
Mickey Thompson Day – Summit Motorsports Park,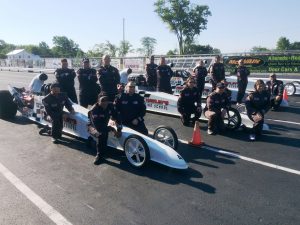 Norwalk, OH
Ken Lubben – Route 66 Raceway, Joliet, IL
"This is a must experience for all drag racing fans.  I have tried many driving experience schools, Frank Hawley's is top notch. From the minute you arrive you are treated great. It was exciting to be able to meet and talk to a drag racing legend like Frank.  His classroom presentation was informative and fun.  The race cars are professional looking, safe, and in excellent condition.  You strap in and the fun really begins with your quarter mile runs. The feeling of the launch off the start line is exhilarating to say the least and you continue to accelerate down the track. For even more fun, you need to stay for the Dragster Adventure.  No where else can you really race like this.  I felt the thrill of the win at the end of the day.  I can't wait to do it again!!"
Brian Schne
ider – Tri City Raceway, Earlville, IA
"What an incredibly fun day with our group!  It was pretty exciting racing side-by-side and taking the win light!"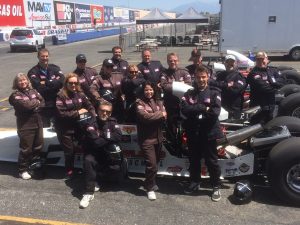 Barbara's Birthday Bash – Auto Club Dragway, Fontana, CA
"It was a great day with our family and friends to celebrate Barbara's birthday! Our daughter Kassee Moseley ended up with the best ETA, Barbara had the best reaction time, and I (Mike) had the top speed. Each time we ask Kassee what she wants for her birthday or any other occasion she asks for drag racing. Our entire group had a very memorable day!"
Jon
Stoll – Tucson Dragway, Tucson, AZ
" For anyone who has watched a Drag Race and wondered what driving a Dragster is like, the Dragster Adventure is a must!  Frank Hawley and his staff are the best, the cars are safe and easy to drive.  The experience is incredible and I sincerely suggest the whole day course, to experience side by side competition."
James Maher – Auto Club Dragway, Fontana, CA
"I had a great time at Frank Hawley's Drag Racing School with Jessica Vargas.  I've been around drag racing since I was in diapers and I never went down the strip until this past Friday.  I told Jess a year ago I had an idea for an awesome date and I told her we could only do it certain times of the year.  She kept asking me when we were going to do it and finally in August I told her the date was set!  I didn't give her any clues!  We showed up to the Dragster Adventure early Friday morning and she was super excited.  I told her we were going to go into the classroom for awhile and then do some racing.  After a short classroom time we were out on the track.  We made a few test hits to get comfortable with the cars and then around noon we went into competition.  Jess and I both won first round.  Then we randomly drew each others numbers out of the hat (I think the man upstairs had something to do with that).  We faced off in the semi-final.  It was fun, we had a little staging dual and Jess knew I was messing with her when I refused to stage – lol.  I ended up staging first and kicking her little butt.  Even though she claims she let me win.  In the final round my opponent ended up going red, which handed me my first win.  Thanks to Frank and his staff for putting on the course – it was well worth the $$$!"
Bruce Azzarito – Auto Club Dragway, Fontana, CA
"Of all the motorsports experiences I have attended, this was the best.  The equipment is top notch and the staff is awesome.  Frank Hawley is the leader here.  Get up off the couch and see what drag racing is all about.  Count me in for a repeat in the future.  Thanks for the tremendous experience."
Bria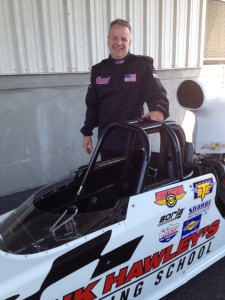 n Spillars – Gateway Motorsports Park, St. Louis, MO
"I couldn't be more impressed with the professionalism of Frank and his crew. I had a great day, and look forward to doing the super gas program soon!"
Mar
tin Gould Jr. – Maple Grove Raceway, Reading, PA
"The dragster challenge experience was great fun. We learned a new routine to race that gave us an exhilarating opportunity to go up against other drivers in a safe environment!  Can't wait for the next session."
Philip M
acy -Summit Motorsports Park, Norwalk, OH
A fantastic day! The thrill of racing side-by-side in a dragster was awesome!  The staff, the cars, absolutely everything was first class!
Jake
Crnkovich – Summit Motorsports Park, Norwalk, OH
You absolutely have to do this!  I don't think I've ever had that much fun.  The Dragster Adventure Challenge program was better than I thought.  I can't believe I won the whole thing!
Jamie Magyar -Summit Motorsports Park, Norwalk, OH
Jamie was the winner of the Mickey Thompson day at Summit Motorsports Park!
"I would like to thank Frank Hawley and his crew for making this an awesome experience.  I can now understand why drag racing is an addictive sport."
A
shlynn Scutt – Bandimere Speedway, Denver, CO
"Most awesome day"
"After many years watching my dad race his top sportsman car,it was a day I had dreamt about for years, winning the dragster challenge at 17 capped off an already amazing day.  P.S. My Nan thinks my dad had lost his mind. Now I'm car shopping-lol!"
Le
vron Kendall – Royal Purple Raceway, Houston, TX
"It was an awesome experience to drive those race cars!  The information from Frank and his crew was good and simple.  Getting in the car, racing other drivers, and going down the track was awesome.  I'd like to start racing one day because it's really fun.  I recommend this to anyone who would love to drive a dragster – this is the place to go and try it, you'll have a lot of fun."
New Balanc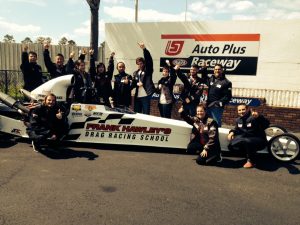 e Group – Auto Plus Raceway, Gainesville, FL
A group of designers and engineers from New Balance shoes participated.  New Balance is working on shoe designs that can enhance a runner's acceleration and wanted to experience some acceleration "dragster style" before sitting in on a lecture Frank gave on the physiology of human reaction time.
Don Snell – Auto Club Dragway, Fontana, CA
Frank Hawley's entire program is a class act!  The instruction was clear and concise and the cars handled so well.  I loved getting a chance to race against other drivers.  I don't think there is anywhere else you can go to race against each other in real dragsters, not just 'street' cars.  What a blast!
Tom Capizzi – Auto Club Dragway, Fontana, CA
"The day was a Blast!"  I had no idea how the race would turn out.  I just wanted to do a good job driving the car.  Frank gave us some great tips on how to concentrate and focus.  I listened and it paid off…I won the race!  How cool!
Dr. Ron Franz
ino – Auto Plus Raceway, Gainesville, FL
"We had a terrific time. My wife also attended. She received the class as a Christmas gift from me. She also got golf lessons, but I'm secretly hoping she prefers racing.
I've been drag racing for 6 years, super pro, in an 8.50 second 1936 Ford pickup. I went down to Gainesville for my wife to attend the drag racing adventure and the challenge. Unbeknownst to me, my best friend, Wayne, signed me up too! I guess he thinks I need help with my lights.
I learned much more than I expected to and had fun doing it. Frank is a terrific teacher! And I've had lots of teachers over the years (undergraduate school, medical school and 6 years of surgical residency).  The teaching format worked well for novices and experienced racers. The cars worked flawlessly and were equal in elapsed time. I was surprisingly comfortable despite my sizable frame. My diminutive wife was comfortable too. The adjustability of the cars make them the right size for any driver. Derek and Jimmy were a tremendous help before and after each pass.
I look forward to returning for the super comp/super gas program. I'll be bringing my friend Wayne down with me so he can work on his lights too."
Kevin
Crawford – Wild Horse Pass Motorsports Park, Phoenix, AZ
I am a 60 year old man, never raced side by side, but I have attended the Frank Hawley Dragster adventure 7 times in Pomona, CA.  Fast Jack was our instructor.  I enjoyed every trip down that 1/4 mile.  This time it was in Phoenix thanks to Frank Hawley and his team.  I was excited to do side by side racing.  Even if I went out in the first round It was worth it.  I happened to get lucky.  Better to be lucky than good.  At 60 my reaction time is not what it was 40 years ago.  When I found out I was in the finals, against a young man with a .001 reaction time I thought I had no chance of winning, but I did.  This was by far the BEST WEDNESDAY OF MY LIFE!
Thanks to the outstanding program offered by the Hawley group, they are the best.  I will be back, maybe do other cars, we will see.  I thank everyone involved, Frank, Lana, Jeff and all the rest.  My bucket list has 1 less thing to do, that was the winning, there is never an end to the driving part!  See you again!"
Steve Healis – Auto Club Dragway, Fontana, CA
"I grew up going to the drag races with my Dad and brother in Southern California but never had the chance to drag race myself.  My Dad is now 94 and I took him to a Match Race madness event at the Baron Raceway.  I had many hot rods and muscle cars throughout the years and always thought I had good reaction times, but what a blast it was to discover and develop this at Frank Hawley's school.  I forgot to breathe on the first run and got a little light headed from the G-forces and pure thrill of the experience.  I was discouraged when my first heads-up race was against a female drag racer from England who was getting her NHRA license – she was lighter and had more experience – but I BEAT HER! I then had to beat the guy that beat her drag racing dad! Then through the next round to win it all.  This was definitely a highlight of my life and I would recommend it to anyone that has a drag racing scratch to itch."
Rick Scribner – Auto Club Dragway, Fontana, CA
"This was my second Dragster Adventure, the first time was 2004.  The first one was great but this time the elimination format was the topper!  Nothing like side-by-side racing to get the heart pumping.  Another plus is that my grandkids participated, a great family deal as well.  Thank you Frank Hawley and crew!"
Mike Sperry – Auto Club Dragway, Fontana, CA
Mike has wanted to attend the school since the 1990s and when the Challenge program became available, Mike flew to California from Wisconsin and has his friend come in from Arizona.  Mike has been interested in fast cars all his life, having muscle cars during high school.  He has an El Camino that runs mid-11s and he and his wife operate a body shop in rural Wisconsin.  Mike tells us "Without a doubt, this was one of the highlights and neatest experiences of my life."
Chris Sapp – Auto Plus Raceway, Gainesville, FL
Chris was the winner from the TKO Group corporate day.  "Wow…what a day!  I've seen lots of races before but could not believe how fast these cars really are.  The Adventure Dragsters are slower than the cars they use in the Super Comp licensing programs, but believe me…they are not slow!  Plenty fast enough but not so fast you can't drive them.  The perfect combination of fun and performance."
Tim Baker – Maple Grove Raceway, Reading, PA
Jeff Wolf, owner of DPI, Inc organized a group for the Dragster Adventure Challenge.  "We had a fantastic time and it definitely was a moral boost to our team and money well spent."  Tim Baker was one of the DPI attendees.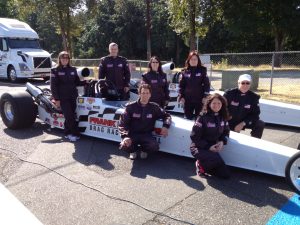 Washington Energy – Pacific Raceways, Seattle, WA
A small group of senior managers from Washington Energy came out and did a little different corporate program.  They sat in on Frank's "Personal Performance Development" seminars along with doing the Dragster Adventure Challenge.  This was organized by one of our grads who felt the classroom lectures and going down the track would benefit his team members!
Steven Langner – Summit Motorsports Park, Norwalk, OH
"Last year I took advantage of the "Super Ride" promotion and had a blast. This year was much better. I participated in the "Dragster Adventure/Challenge." The Adventure gave students the chance to drive a dragster. I made three training runs, and all were exhilarating. But the best was yet to come.
The 'Challenge' portion was a competitive event, similar to NHRA eliminations. Pairings in the first three rounds were decided by lot. I REALLY got my money's worth today. Not only did I successfully make it to the finals . . . I won the class' championship. I came out of the dragster asking "Where's Bader? I want an ice cream scoop!"
Words alone cannot convey the depth of my appreciation for the chance to experience what I did today, thanks to Frank Hawley's Drag School, and especially all at Summit Motorsports Park for hosting its appearance."
Ben Summers – Gateway Motorsports Park, St. Louis, MO
"I had no previous experience in any racing before attending the Dragster Adventure Challenge.  Driving a dragster had been a life long dream for my father and I.  The time we spent with Frank and his team was truly a dream come true!  Everything that we read about Frank and his team as well as his program were spot on!  Their professionalism and guidance were second to none.  Thank you Frank for allowing our life long dream to come true!"
Tim Brown – Auto Club Dragway, Fontana, CA
Tim and his friend Tony attended.  Tim's interest in drag racing was ignited when he went to Lions Drag Strip with his Sunday School class.  His second visit to a drag strip was the Winternationals after his family moved to Fullerton, CA.  Then he regularly attended Irwindale and Orange County International Raceway.  Tim raced his B-MP 1957 Ranchero and B/MV at Orange County religiously and held track records in both categories.  Tim joined the California Air National Guard and sold his car.  Then his interest drifted to Hot Air Balloons, in which he competed for 28 years.  Tim is still involved in the auto industry and owns several body shops.  Tim and his friend Tony agree that "The time we went to the Frank Hawley Dragster Experience – It was the best time we've ever had!"
Travis Ostrom – Auto Plus Raceway, Gainesville, FL
This was a gift from his wife, whose is a "Gator" at heart.  Travis and his family came down from Georgia to attend the program.  He enjoyed the race enough to make an employee contest at his car dealerships and the TKO Group returned in September for their own fun day.
Dustin German – Gateway Motorsports Park, St. Louis, MO
Dustin works at Gateway in ticket sales & promotions for all the NASCAR and NHRA events.  This was his first time behind the wheel though!
"I had no previous racing experience. The adventure challenge was a blast. I have a new found respect for drag racing drivers. The course prepared me well enough to feel comfortable driving down the ¼ mile strip at full speed. Going 130 MPH a couple of inches from the ground was a thrill. Frank and his staff were courteous and professional, and I would absolutely participate again if given the opportunity."
Dave Hardy – Auto Club Dragway, Fontana, CA
This adventure started as a Valentine's Day gift!  Dave is from the Northern California and when his friend Shadow received the Dragster Adventure as a Valentine's gift, he decided to attend with long time friends Shadow and Dean.  Accompanied by their wives, these three competitive adrenaline junkies got behind the wheel of the 770 HP dragsters.  Out of the twenty-one racers that day, only five went on the final bracket races.  Of the five, three were Dave, Shadow and Dean.  The final race was between Dave and Shadow, two kindred brothers.  Dave won, but only by fractions of a second.  What a great day!  Do we see a rematch coming next year?
Roger Marks – Auto Club Dragway, Fontana, CA
Roger works for Clean Harbors Environmental Services in the Los Angeles, CA area. "From the first minute I got to the track everything was professional.  The crew was friendly and knowledgeable and I met a lot of nice people.  I'd recommend this program to anyone that likes fast cars and excitement."
Donnie Couch –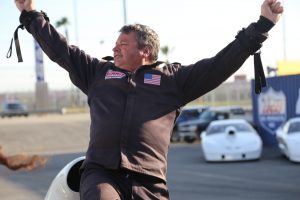 Auto Club Dragway, Fontana, CA
Donnie was the winner of our Media Challenge Dragster Adventure.  Donnie is a Southern California native that has a long history in drag racing but has never been behind the wheel.  He has been crew chief for many famous people in the sport and worked for many others.  Now you'll see Donnie on Speed Scene Live and Bangshift.com, as well as working with people on the Nostalgia scene through his West Coast Funny Car Factory.
"Best day ever, I never drove down the quarter Mile and The staff taught me how to do it…I won! If I can win anyone can win…Great Day"