200 MPH Plus Funny Car or Dragster!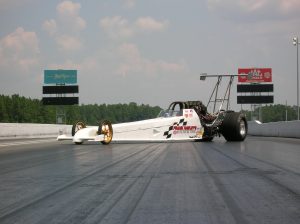 These upgrade courses are designed not only for those seeking to compete in Nostalgia Funny Car, Pro Mod, Top Dragster, A-Fuel Dragster, Top Alcohol Dragster, but also numerous other types of programs such as Super Quick, Quick 16 Shootouts, Super Pro, Big Money Bracket Races or anywhere a competition license to run quicker than 7.49 in a quarter mile is required.
You can earn  your license to 6.00 in these classes. Frank Hawley's Drag Racing School offers drivers who are looking to upgrade their current NHRA competition license to 3A or 3B or 2A or 2B in this unique one day course.  Participation in this course requires a strong drag race history or successful completion of the Super Comp or Super Gas Course.
The program starts with classroom instruction and driving equipment fitting. This is followed by an introduction to the car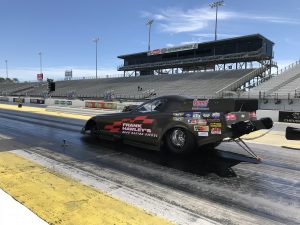 and its controls. After a "warm-up" procedure in the pit area the focus moves onto the track.  On each run the driver's performance is recorded and reviewed from 3 seperate sources.  Video is recorded from outside the car and inside the car and the Racepak data recorder keeps track of everything else. Drivers begin by making a short run from the starting line and will progress to longer runs as skill and confidence increase.
Following each run the driver's performance is personally reviewed by Frank Hawley.  A critique is given and suggestions are made to improve performance.  As the driver demonstrates increased skill the runs will get faster.
Students can add their name to the list of Frank Hawley's Course Graduates… Jack Beckman, Steve Torrence, Antron Brown, Robert Hight, Tony Schumacher, Austin Prock, Jordan Vandergriff, Stevie "Fast" Jackson, Bob Tasca, Tim Wilkerson, Courtney Force, Brittney Force, Matt Hagan, Alexis DeJoria, Doug Kalitta, JR Todd, Tony Pedregon, Jim Campbell and more.  Each of these professional drivers, and many more, chose Frank Hawley's Drag Racing School as their first step to the professional ranks.
Tuition – $5995.00 (4 runs)
Additional/Grad Runs – $1500.00 per run