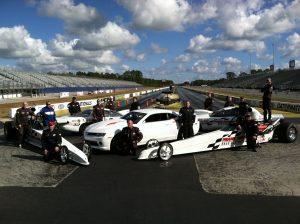 We have lots of classes coming up!  Check out our list of class dates and locations!  We're running our popular Super Comp and Super Gas classes, along with the Top Dragster, Nostalgia Funny Car and our TAFC and TAD.  We're also holding the Dragster Adventure and Dragster Adventure Challenge at all the tracks we travel to this year!
In addition to our classes at Auto Plus Raceway in Gainesville, FL, we're heading to Phoenix, Fontana, Houston, Denver, St. Louis, Norwalk, and Reading.
So whether you're looking to earn your competition license, improve your skills, check one off your "Bucket List" or upgrade your current license, please give us a call and we'd love to help.
Or maybe you, you and your friends, your employees or your customers would like to try the Dragster Adventure or Dragster Adventure Challenge with Side-by-Side Racing!  
Adventure grads say it's the most exciting experience of their lives!
We're calling on all our grads that are racing to send us their updates and we'll post them on our Facebook page.  If you haven't already "Liked" our Facebook page, please do.
Wishing you all a fantastic year on and off the racetrack and look forward to hearing from you in 2015!
Contact us at:
866-480-7223 —  Paul Shields x102 or Jeff Arend x103
www.frankhawley.com