Mar.12.2012

Graduate Spotlight – Vol. 1 – Edition 2
Frank Hawley's Drag Racing School – Graduate Spotlight
Vol. 1/Edition 2
Elyse Climes of North Plainfield, New Jersey, spent several years competing in the JR Dragster ranks before making her way to Frank Hawley's Drag Racing School in search of gaining the driving experience to take the next step. Elyse earned her NHRA Super Comp (4A – 7.50 and up) license during the school's 2011 stop at Maple Grove Raceway in Reading, Pennsylvania.
Her parents acquired a 2000 Racetech dragster for her last November that is equipped with a 555ci BBC and alcohol injection. "I am enrolled in super class points at Raceway Park in Englishtown for 2012 and I can't wait to get started," she said. "We already had my car out late last year and were able to make some passes on it the last day the track was open in December."
After attending Frank Hawley's Drag Racing School Reaction Time Clinic at Royal Purple Raceway in Houston, Texas, Jenifer and Jeff White had their best season yet during 2011. Jenifer went to an IHRA Nitro Jam National final, won the Bristol NHRA National event, becoming the first women to win Top Dragster at an NHRA National Event and the duo from Conroe, Texas finished in the top ten in the NHRA Division 4 Top Dragster standings.
"Jenifer gained a lot of confidence in 2011, and received a lot of reinforcement taking the Reaction Time Clinic," said husband and crew chief Jeff White. "We are going to run almost all of the NHRA Division 4 divisional races in TD. We are also going to run the NHRA Division 3 races National Trail and Mid-Michigan in July and we'll likely run two NHRA national events."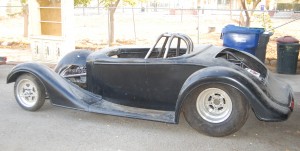 Prior to attending one of Frank Hawley's Drag Racing School classes in Las Vegas, California resident Mike Spencer spent many years racing his twelve second Chevy Malibu wagon, but was ready to make the move to NHRA Super Gas and looked to the experience of Frank Hawley to improve his driving skills prior to completing his new car.
Currently finishing up his '34 Roadster, Spencer has stayed busy on an off the track. "Since getting my license, I've driven for a couple of my friends in their cars in various classes and events. As I continue to complete my roadster and get it to the track this spring and summer, I'll maintain my presence at the track as both driver and crew member. I really have to say thanks for all that Frank and his team has done for me."
Ron Helmer from Freeland, Michigan recently retired and decided it was time to pursue his love for drag racing. Helmer completed his NHRA licensing requirements during Frank Hawley's Drag Racing School Super Class at Lucas Oil Raceway in May of last year. His son Adam also attended and took part in the Reaction Time Clinic. The pair are busy putting the finishing touches on their new drag car. "After I received my license last spring, my son and I sold our '69 Chevelle SS show car and bought tube chassis '67 Chevelle 4-link project car to finish," Ron explained. "We finished the funny car chrome moly cage and certified it to 7.50 and are ready for our 555 Alky BBC. We plan on having it at the track this early this summer and begin the process of tuning the chassis. Frank Hawley's school definitely launched me into doing this for real … six passes in that firebird and I was definitely HOOKED! Plus the time spent with my son on something we both love to do has been icing on the cake."
We want to hear from you!
We know many of our graduates have gone on to purchase cars, build cars, rebuild cars or already have cars and are out there racing them. We'd like to include you in our next Grad Spotlight! Email us and let us know what your plans are for the season ahead.
Email pictures, if you have them, and some info on the car and yourself to lhawley@frankhawley.com