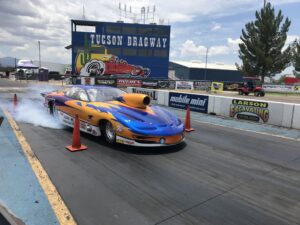 Aspiring Arizona Racers Can Get Licensed at Frank Hawley's Drag Racing School
Written by Ainsley Jacobs
The Arizona desert heats up as Frank Hawley's Drag Racing School heads to Tucson Dragway for a 2-day competition license class on May 2-3 and its popular Dragster Adventure on May 4, 2022. The NHRA-sanctioned quarter-mile dragstrip located on the Pima County Fair Grounds has given many successful names their start in the sport. Budding drag racers and experienced racers alike can all enjoy the School's sessions at the iconic facility.
Starting on the first Monday in May, the 2-day licensing course in Super Comp or Super Gas covers a wide variety of topics suitable for racers of all levels. From the immersive classroom lectures discussing practical theory, techniques, and more, to the hot on-track environment giving racers the chance to practice what they've learned, Frank Hawley and his team provide valuable insights to help beginners and veterans improve their skills while working towards their NHRA competition licenses.
"Jim Hughes and Matt DeYoung do a fabulous job with the track in Tucson. We look forward to visiting them each year," Hawley said excitedly of the School's upcoming class and experience in the Grand Canyon State on May 2-4. "The racing surface at Tucson is one of the fastest in the west."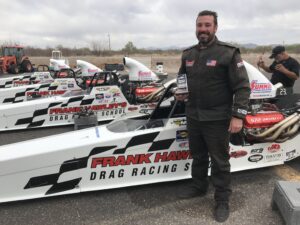 On May 4, the School's fun Dragster Adventure gives drivers the chance to experience the thrill of competing in a real side-by-side race. The perfect treat for friends, family, employees, customers, or anyone who's dreamed of driving a full-sized, competition-style dragster in excess of 130 mph in the quarter-mile, reservations can be made online at www.FrankHawley.com.
"Tucson Dragway is happy to host Frank and his school in 2022," added Matt DeYoung, Track Manager of Tucson Dragway. "Frank Hawley's Drag Racing School offers such an in-depth and powerful way of teaching new racers the ins and outs of our sport, all while teaching the most experienced racers things they never realized was so crucial to their programs."
Coupled with two stops in Las Vegas in April and September, Tucson Dragway's May dates mark the only opportunity for West Coast-based racers to obtain an NHRA license with Frank Hawley's Drag Racing School in 2022. Don't pass up the chance to get licensed on May 2-3, or the chance to drive a dragster on May 4, 2022!
Seats are limited and courses sell out quickly. To reserve, please call 866-480-7223! Visit www.FrankHawley.com for all upcoming class dates and locations.
Jeff Arend, 866-480-7223 x103, jarend@frankhawley.com
Paul Shields, 866-480-7223 x102, paul.fhdrs@gmail.com