Three Generations of Kalitta Family Racers Visit Frank Hawley's Drag Racing School
It was a momentous occasion as Frank Hawley's Drag Racing School hosted three generations of Kalitta family racers in July of 2023 and enabled the latest group to fast-track their own drag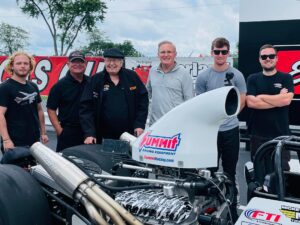 racing careers.
Held at the iconic Summit Motorsports Park facility in Norwalk, Ohio, Hawley's popular NHRA Super Comp dragster licensing course welcomed future stars of the sport, veteran NHRA Top Fuel competitor, Doug Kalitta's 22-year-old son, Mitchell, the late multi-time NHRA Top Fuel champion Scott Kalitta's 23-year-old son, Colin, and 28-year-old Kalitta Motorsports' Marketing Manager, Luke Fath.
The famous Florida-based drag racing dynasty also surprised School staff and attendees, as Doug brought his uncle, the legendary "Bounty Hunter" Connie Kalitta, along for a visit. Kalitta, a storied NHRA Top Fuel competitor with a list of accolades a mile long including being inducted into the Motorsports Hall of Fame of America as well as the first-ever recipient of the NHRA's Lifetime Achievement Award, appreciated seeing the family tradition he started being passed down.
"When I was a kid, I had photos of Connie's Top Fuel cars on my bedroom wall. I always wanted to become a professional drag racer," remembered Frank Hawley, the School's owner.  "Having both Connie and Doug there was a treat for everyone."
Mitchell, Colin, and Luke all enjoyed driving the School's Super Comp dragsters and did quite well. "They had fun and it was good to get them more seat time," said Doug, who graduated from Frank Hawley's Drag Racing School many years ago. "Frank [Hawley] is the best at instruction and does a great job. I'd highly recommend his School to anyone that wants to drive any type of drag car."
Although both Mitchell and Colin had driven Junior Dragsters previously, the young men were astonished by how quickly the full-size cars accelerated in comparison. Luke, too, benefitted from the eye-opening experience from a different perspective and walked away with a better understanding of what goes on behind the wheel.
"I've been around Top Fuel cars since I was 12 years old and have always seen Super Comp cars in the lanes, but it was intimidating to get in the car and put it on the transbrake and let go of the button," Luke shared of how he garnered a whole new respect for Sportsman drivers when he felt the thrill of speed for himself. Plus, having his mentors Doug and Connie standing by watching made it a fairly surreal situation overall. "This really changed the way I view what these guys do. It's addicting."
There's a definite interest for the next generation of Kalitta men to continue their own drag racing careers, so it's not unlikely they may end up back at it if the right situation becomes available. "It was great to have Mitchell, Colin, and Luke attend our program," noted Frank. "They all did a great job and I look forward to seeing them get a chance to go racing."
Everyone in attendance, including Connie, liked their time at the track. "Connie was impressed with what Frank's got going on and what he did for the three boys," added Doug.
Written by Ainsley Jacobs.
For more information on all upcoming class dates and locations, visit www.frankhawley.com or call 866-480-7223!