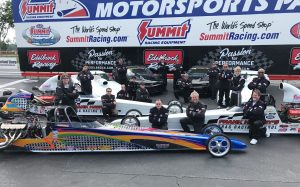 Here at Frank Hawley's Drag Racing School we've been helping build successful careers and making dreams come true for a number of years!  Whether you have attended our Dragster Adventure program or one of our competition license classes, our grads are our best endorsement and we are thankful for you all!  For those that are racing, please keep us updated with your  news and we will share it on our social media.
For those out there considering attending the school, listed below are winter and spring dates at Gainesville Raceway, along with some of the travel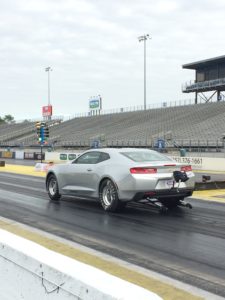 dates that have been confirmed at Tucson Dragway, Auto Club Dragway, The Strip at Las Vegas, Route 66 Raceway, Royal Purple Raceway,  Summit Motorsports Park, Woodburn Dragstrip, and Maple Grove Raceway.
There are only a few seats left in the ever popular Super Comp or Super Gas class between Christmas and New Years.  Don't delay if you may be thinking about attending this class!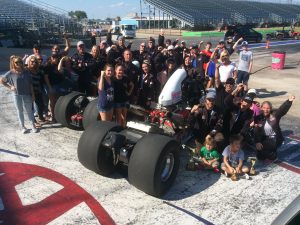 Our very knowledgeable guys, Paul Shields and Jeff Arend, are responsive to your calls, texts and emails so feel free to contact them with any and all questions you have about the school.  Whether you want to bring your own car to a class, arrange a group event, buy a gift for someone, or even treat a potential sponsor to a taste of drag racing, give them a call. Their direct contacts are listed at the end of this email.
Below is a list of confirmed class dates.  Please check back as we will be confirming other dates!  **Additional dates for Group Events, TD/NFC are on demand
Gainesville Raceway:  December 27-28, 2017 SC/SG/BYOC, January 13 Adventure (private group), January 16-17 SC/SG/BYOC, January 18 NFC, January 22 TD or NFC, February 6-7 SC/SG/BYOC, February 20-21 SC/SG/BYOC, March 20-21 SC/SG/BYOC, March 23 Dragster Adventure, March 27-28 TD or NFC.  Summer, fall & winter dates for Gainesville will be coming soon!
Tucson Dragway:  April 12-13 SC/SG/BYOC, April 15 Dragster Adventure
Auto Club Dragway:  April 18-19 SC/SG/BYOC, April 20 Dragster Adventure, April 26 Dragster Adventure (private group), April 27 Dragster Adventure, October 17-18 SC/SG/BYOC, October 19 Dragster Adventure
The Strip at Las Vegas Motor Speedway:  April 30-May 1 SC/SG/BYOC or May 2-3 SC/SG/BYOC, October 9-10 SC/SG/BYOC or October 11-12 SC/SG/BYOC
Route 66 Raceway:  May 17-18 SC/SG/BYOC, May 19 Dragster Adventure
Royal Purple Raceway:  May 23-24 SC/SG/BYOC, May 25 Dragster Adventure
Heartland Park:  June 20-21 SC/SG/BYOC, June 22 Dragster Adventure
Woodburn Dragstrip:  June 28-29 SC/SG/BYOC, June 30 Dragster Adventure, July 1 Dragster Adventure
Summit Motorsports Park:  July 16-17 SC/SG/BYOC, July 18 Dragster Adventure (private group), July 19 Dragster Adventure
Maple Grove Raceway:  August 14-15 SC/SG/BYOC, August 16 Dragster Adventure, August 17 Dragster Adventure
Paul Shields, 866-480-7223 x102, 904-472-6312 c, paul.fhdrs@gmail.com
Jeff Arend, 866-480-7223 x103, 909-973-8279 c, jarend@frankhawley.com
866-480-7223