First, you go to school, and then you get in the business.
Frank Hawley's Drag Racing School graduate Spencer Markell has taken this pathway.  Recently Markell purchased veteran sportsman drag racer Steve Cohen's operation.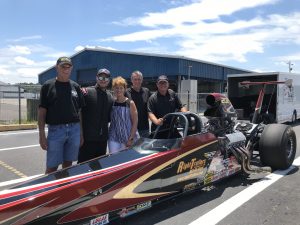 "I've been a drag racing fan for years but never had the opportunity to get really involved until now," Markell said. "I've been looking at Super Comp, and Top Dragster and the chance to purchase a quality operation from a champion like Steve Cohen doesn't come along every day.
"At the Gatornationals, I ran into Steve, and the deal seemed like it was just meant to be. Steve and I agreed that the way to start was to go to Frank Hawley's Drag Racing School with the new car."
The school's founder and director, Frank Hawley, was impressed with Markell's performance in the school.
"Spencer attended our Super Comp class and did quite well," Hawley said. "Driving our Super Comp car was the perfect preparation for getting behind the wheel of Steve's Top Dragster."
Cohen, a veteran of sportsman drag racing for decades, believes Markell made an excellent choice in heading to Hawley for driver training.
"Frank and I have known each other for over 30 years," Cohen said. "Frank runs a first-class operation, and I enjoyed working with him to get Spencer up to speed in the Top Dragster. My driving days are not over, but I am going to enjoy helping Spencer develop the skills necessary to compete at a national event."
For more information about how you can get into the sport or improve your skills, contact Frank Hawley's Drag Racing School at 866-480-7223.
866-480-7223
www.frankhawley.com