This week I had the opportunity to help Jay Leno learn to drive a dragster for a segment on his show "Jay Leno's Garage"!  Everyone in America knows the name "Jay Leno" and most likely everyone knows that Jay is a huge fan of the automobile.  His personal collection of cars is one of the largest and most impressive in the country.  Jay loves new cars, old cars, fast cars, slow cars and race cars.  And he loves to drive them!  So when the folks from the television show "Jay Leno's Garage" called me and said Jay wanted to learn to drive a dragster… I jumped at the chance to work with him!
Although Mr. Leno has a lot of experience in fast cars, I thought I could use a little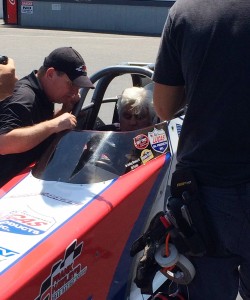 help with the instruction, so my friend, former student and current NHRA Pro Stock World Champion Erica Enders stopped by to give me a hand.  As a bonus, Erica showed up driving a brand new, not yet in production 2016 SS Camaro…and I got to drive it!  We had an absolute blast and Jay and his team were a joy to work with.  The location was Frank Hawley's Drag Racing School's west coast home at Auto Club Dragway in Fontana and it was possibly one of the most memorable days I've had at a drag strip.
While you're waiting for our show check out "Jay Leno's Garage" on-line and take a look at all the other great cars Jay has gotten to drive in the past season.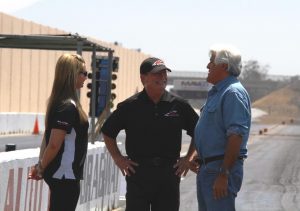 The details and the outcome of Jay's performance on the track won't be released until the show goes on air in October but we'll stay in touch with everyone and let you know an exact air time.  It's going to be a great show… you really don't want to miss it.
Frank
866-480-7223