Summit Ra
cing Equipment and Frank Hawley's Drag Racing School have been working together for over a decade.  Having just come off a week of
classes at Summit Motorsports Park in Norwalk, OH it seemed like the perfect time for a thank you to our long-time partner!
This ye
ar the Summit logo has been worn by thousands of our students including stars like Jay Leno and Rutledge Wood.
We shot a segment with Jay for his new show "Jay Leno's Garage" at Fontana and Rutledge Wood was behind the wheel of one of our Super Gas cars as he and Tanner Foust prepared for a segment of Top Gear.
Summit Racing Equipment is the world's largest mail order automotive performance equipment company, with thousands of performance parts, aftermarket accessories, tool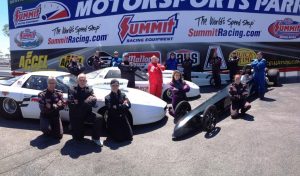 s and garage equipment, collectibles, and stock replacement parts to choose from.
So, if you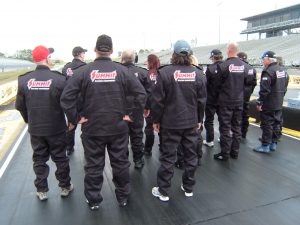 're ever by one of the Summit retail stores, stop in.  They host car shows, cruise-ins, have tent sales and more!  Retail outlets are located in Tallmadge, OH, Sparks, NV and McDonough, GA.
866-480-7223