Frank Hawley's Drag Racing School is joining up with the Real Pro Mod Association to offer race fans a unique opportunity!  The school will be conducting an Adventure Dragster Race during the RPM Association pre-season warm-up on February 26-27, 2016 at Palm Beach International Raceway in West Palm Beach, FL
The RPM Association is the nation's leading Pro Mod group featuring champion drivers like World Champ Troy Coughlin, Danny Rowe, Steve Matusek, Rickie Smith, and many more.
The Real Pro Mod cars and drivers produce some of the most exciting racing action in drag racing as they compete on the NHRA Mello Yellow series across the country.
In February the group will be featured at Palm Beach International Raceway during the spring warm-up on February 26-28,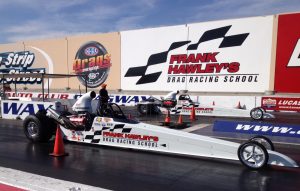 2016.  The Pro Mods will be joined by Frank Hawley's Drag Racing School, which will be offering one of their Dragster Adventures during the event.
"This is something we've never done before" said school founder Frank Hawley.  "We'll be giving folks a chance to compete in one of our Dragster Adventures while the RPM race is taking place.  Our students will be part of the action!  This will be a 2-day event for our students.  Our drivers will make their practice runs on February 26th and run their eliminations on February 27th.  After their practice runs, our drivers will be able to watch the pro mods qualifying, walk the pits and meet the Pro Mod drivers!  Getting to race in our Dragster Adventure and being a part of the Pro Mod event is an amazing opportunity!" said Hawley.
Those interested should go to the school's website at www.frankhawley.com and read about the Dragster Adventure Challenge, then contact us or you can just buy on-line (click on the following link to purchase the West Palm program – February 26-27 Dragster Adventure Challenge) 
"This is a great gift idea for anyone attending the event, and no racing experience is necessary." said Hawley.
866-480-7223