We hope you have all had the opportunity to see our newly redone website, but if you haven't, please check it out!
You now have access to our calendar of dates and you can book the Dragster Adventure/Dragster Adventure Challenge on-line! We are also adding a video page, so watch for that. For anyone who would like to share some good video of their time at the school or grads in competition, please email the link to us so we can post it.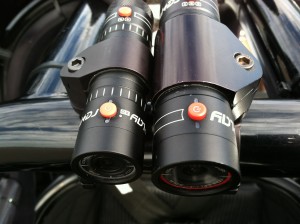 Speaking of video…We had a great time last week when John Spar, owner of ReplayXD visited our school here at Auto Plus Raceway in Gainesville, FL. John, a long time friend and Tanner Stauss, a producer that works for John, spent two days shooting video of our cars in action. The video will be used for commercials at NHRA National events, our web site and other promotions.
They shot some of the most amazing video! At times they had as many as 10 cameras on a single car and the cameras were in very unusual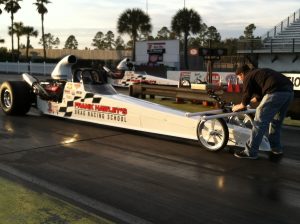 locations. For one shot John put a camera on the race track a few hundred feet down the track and then proceeded to make a full power run…right over top of the camera! John is an experienced race car driver and multi-National Event winner and he did a great job as he put the center of the car dead on top of the camera at full speed!
Next week I'm heading to the Winternationals in Pomona, CA where we'll be doing some media rides before the event and have a display also. Our new commercial will be running there on the Jumbotron during the event. Please stop by and say hello.
Remember to let all the adrenaline junkies you know that they can "Race Dragsters Side-by-Side" in the Dragster Adventure Challenge program starting in April at Auto Club Dragway in Fontana, CA and other great race tracks listed on our website! Of course we're continuing to run our popular Super Comp and Super Gas license programs too!
Frank
www.frankhawley.com
866-480-7223