Frank Hawley's Drag Racing School is coming to Summit Motorsports Park July 20-24!  "There are different reasons drivers attend our courses," said school founder Frank Hawley.  "Some are looking to get a competition license while others just want to drive a fast dragster and check another item off their bucket list.  Every class has a combination of experienced racers and folks that have never been down a drag strip.  The two-day SC/SG license course is designed to work for drivers with various levels of experience."
"The staff, as well as the entire Summit Motorsports park facility, is one of the best you'll find anywhere in the country," said Hawley.  "The Bader's make us, and our students, feel very welcome and give us a superb surface in which to conduct our courses."
The two-day Licensing program on July 20-21 allows drivers of all backgrounds the opportunity to earn their NHRA competition driver's license in the school's Chevy Performance 572/720R equipped Super Comp Dragsters or Super Gas Firebirds.  For drivers that already have their own car, the school offers a "bring your own car" program that gives drivers the opportunity to enjoy the same driving course behind the wheel of their own race car.  No experience is necessary to take the course.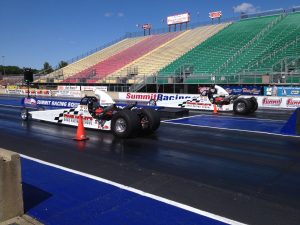 In addition to on-track time, students will learn from Frank's classroom sessions which cover the physiology of how the mind and body work together.  Participants will learn how to mentally prepare, perform at the highest level, improve focus and block out distractions.  Frank teaches how to practice more effectively and feel more confident about pulling up to the starting line and he shares techniques on how to remove the emotional baggage (everybody has some) that can often disrupt good performance .
For those that are simply looking for the thrill of blasting down the quarter mile, the Dragster Adventure is offered on July 23 or July 24.  The Dragster Adventure starts at just $399 for the half day program, or $599 for the whole day program with SIDE-BY-SIDE racing.
Seats are limited, so call now to reserve your seat for July 20-21 for the competition course, or book on-line for the Dragster Adventure on either July 23 or July 24!
For information on all classes, dates and locations for Frank Hawley's Drag Racing School, visit the school's website – www.frankhawley.com or call 866-480-7223. 
Here's what some of our recent grads had to say:
"This was by far the BEST WEDNESDAY OF MY LIFE!  Thanks to the outstanding program offered by the Hawley group.  They are the best.  I will be back! I thank everyone involved, Frank, Lana, Jeff and all the rest.  My bucket list has 1 less thing to do!"  Kevin Crawford, Dragster Adventure Challenge Winner
"I'm still processing my two days at drag racing school. I learned as much about myself as I did about racing, which is what I was looking for. Instead of lecturing about cars and driving, Frank teaches the bio-mechanics necessary to perform a precise task under pressure, and the state of mind needed to do well. Drag racing requires a keen self-awareness and presence in the moment."  Joseph Brown, Super Gas Firebird
"I attended your super comp class on December 2 & 3 in Gainesville and 7 weeks later I have a Top Fuel Dragster license and I couldn't have done this without the things you teach your students. Thank You!"  Shawn Reed, Super Comp Dragster now Top Fuel driver!
"I learned much more than I expected to and had fun doing it.  Frank is a terrific teacher! And I've had lots of teachers over the years (undergraduate school, medical school and 6 years of surgical residency).  The teaching format worked well for novices and experienced racers. The cars worked flawlessly and were equal in elapsed time. I was surprisingly comfortable despite my sizable frame.  My diminutive wife was comfortable too. The adjustability of the cars make them the right size for any driver.  Derek and Jimmy were a tremendous help before and after each pass.  I look forward to returning for the super comp/super gas program.  I'll be bringing my friend Wayne down with me so he can work on his lights too."  Dr. Ron Franzino, Dragster Adventure winner
Please like Frank Hawley's Drag Racing School on Facebook and follow us on Twitter @frankhawleydrs! 
www.frankhawley.com
866-480-7223