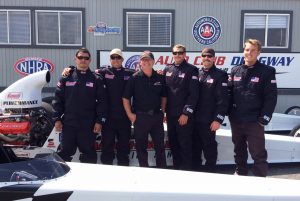 Recently five US Navy SEALS based at the Naval Special Operations base in Coronado, CA visited Frank Hawley's Drag Racing School at Auto Club Dragway in Fontana, CA.  The SEALS were invited as part of a program conducted by Mickey Thompson Tires.
"I was absolutely honored to meet these men and thank them for the work they and their counterparts do to protect our country," said Hawley.  "All of the men and women serving in the armed forces deserve our praise and thanks for their contribution to freedom.  It was however a special opportunity for me and my staff to meet the SEALS."
Frank Hawley's Drag Racing School has been working with the Mickey Thompson Tire Company for over a decade.  Through the years hundreds of Mickey Thompson customers, staff and guests have gotten a chance to get behind the wheel of one of Hawley's dragsters and blast down the 1/4 mile during special Mickey Thompson promotional programs.
"It was an honor for us to have some of our finest join us for a day of fun and camaraderie at the track," said Mickey Thompson Training Specialist Kirk Fenn.  "Frank and his team never missed a beat and once again provided our guests with a fantastic day at the track."
The SEALS got to make several runs in the dragsters in addition to some 'side-by-side' racing.  Each one said they'd love to return for some more racing.
"These guys didn't just graduate from SEAL training.  A couple of them have been SEALS for 15 years." continued Hawley.  "They were treated like 'Rock Stars'.  Everyone wanted a photo taken with them.  They were a group of very bright, brave and humble guys and had no problem at all driving the race cars.   In fact I was told that after leaving our school they were headed for a different type of training course in a new (not yet released) land based tactical weapons vehicle in Pensacola, FL.  Now that is something I'd like to learn to drive!" Said Hawley with a smile.
Frank Hawley's Drag Racing School is open to everyone…not just SEALS!   If you'd like to get behind the wheel of a dragster give the school a call at 866-480-7223!