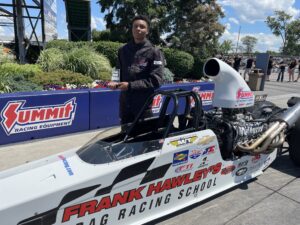 Mickey Thompson Celebrates Staff and Customers with Dragster Adventure at Frank Hawley's Drag Racing School
Written by Ainsley Jacobs
For more than twenty years, Mickey Thompson Performance Tires and Wheels has been the official tire supplier of Frank Hawley's Drag Racing School. In addition to knowing the importance of providing the best racing rubber to its customers, M/T knows the importance of appreciating its hardworking employees. Every year, the company honors a select group by sending them to the School to participate in the popular Dragster Adventure Challenge.
Frank Hawley's Dragster Adventure Challenge was specifically designed as a fun course to give enthusiasts the chance to drive a dragster – and also compete in a side-by-side race – without the stringent requirements of becoming a licensed racer. Available to the general public and to corporations at various dragstrips across the country, it's an incredible opportunity for people of all ages and backgrounds.
The full-sized, competition-style cars are capable of running 0-60 mph in 3-seconds at speeds upwards of 130 mph in the quarter-mile. Like all of the cars at Frank Hawley's Drag Racing School, each one depends on Mickey Thompson's American-made rubber to get them down the track safely, consistently, and quickly.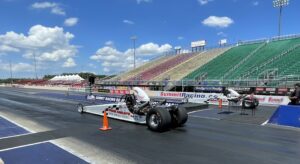 On July 12, 2022, Mickey Thompson brought sixteen of its lucky staff and customers to Summit Motorsports Park in Norwalk, Ohio, for a special day of excitement. Additionally, since Goodyear acquired Mickey Thompson when it purchased its parent company, Cooper Tire & Rubber, in 2021, several Goodyear engineers were invited to attend so that they could experience the M/T performance drag racing side of things.
"We've had a lot of discussions on how we can improve our products, both for our racers and Frank Hawley's Drag Racing School. Getting the Goodyear team out to race gave them a different perspective on things," noted Jason Moulton, Director of Motorsports at Mickey Thompson. Moulton believes that perspective is the key to helping people understand the importance of their role in every process, whether it's manufacturing or drag racing. "For our customers, we enjoy showing them why we work so hard to deliver the best performance with our race tires."
Owner and founder of the School, Frank Hawley, has also enjoyed the longstanding relationship with Mickey Thompson. "In addition to the fantastic products that they manufacture, Mickey Thompson has assembled a great group of people," shared Hawley. "Jason [Moulton] and his team consistently produce for us and our students, and we're looking forward to many more years with M/T's tires performing so well for our customers."
Moulton wasn't scheduled to participate in this outing, however, when another driver had to cancel at the last minute, he eagerly stepped in. "It was a great experience and helped me better understand what it's like to drive from the customer's perspective," noted the man who also got an updated, firsthand look at M/T's tire performance and consistency. "Plus, who doesn't want to get in a car and go ripping down the track? It's always a thrill, and the School's instruction and equipment are top-notch!"
For Moulton, his favorite moments from the day weren't centered around his time behind the wheel – instead, he loves seeing the sheer joy on a new racer's face after making their first run. "Participating in a program like this is something that everyone absolutely needs to try," he affirmed.
Of the group, which included seasoned racers like Moulton as well as rookies, it was Saiyd Drake, a 22-year-old M/T warehouse associate and first-time racer, who went on to win the Dragster Adventure Challenge race outright.
"It caught me a little off-guard since I wasn't used to going that fast," laughed Drake, who appreciated using the same tires he handles daily. "Frank and his team told me to focus on my reaction time, not to be nervous, and to go for it when I saw the lights [on the tree] change."
Drake showed true natural talent and the School's program helped him turn on several win lights in a row as he progressed through the friendly competition. Although the unexpected final round win itself "felt great and was amazing," Drake especially enjoyed talking with the other racers and the School's staff. "I loved it and would like to race more," he added happily.
Whether it's beginners like Drake or frequent competitors, Frank Hawley's Drag Racing School offers tons of amazing opportunities to strap into the driver's seat and blast down the track. From the NHRA and IHRA licensing courses to the no-experience-required Dragster Adventure Challenge, everyone who attends will get the bonus of rolling on a set of Mikey Thompson's iconic tires.
866-480-7223