Marc Caruso knows drag racing.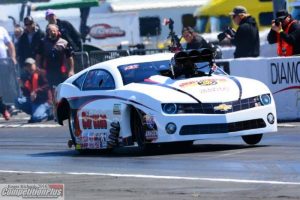 His father began racing at the age of 15 in upstate New York and Marc followed in those footsteps years later in his 1996 IROC Z. After racing his street car, he earned his Super Gas license at the age of 17 in his dad's '67 Camaro, which led to the purchase of a 1970 Chevelle. He raced 10.90 in IHRA events and won his first national event in 2000 at Norwalk. Following years of racing, national event victories, Marc said attending the Frank Hawley Drag Racing School upped his game even further.
"(It was) very educational," he said. "I've been drag racing for almost 30 years and after sitting in on Frank's classes, I found myself in two back-to-back NHRA Top Sportsman National event finals.  I truly believe by implementing some of the psychological teachings from Frank is what helped me find my way to both of those finals."
Marc believed in what Frank Hawley taught so much, he enrolled both of his daughters, Camrie Caruso and Ava Lawler, in the school as well.  "As a racer, I feel in control when I'm operating the race car," Marc said. "But, when I'm watching my daughters, the hardest part for me is standing on the starting line and feeling completely not in control. It can be pretty nerve racking."
Watching Frank work with the girls, however, gave Marc a sense of security that they were in good hands. "I truly feel that Frank gave both Camrie and Ava the best know-how to compete competitively and most importantly, safely."
Camrie has competed in Super Comp and Top Dragster at Division 1 and Division 3 races and is waiting for the day she can join her father at the national events. When she found out she was going to attend the Frank Hawley Drag Racing School, she knew her racing future just got brighter.
"My experience with the school was amazing!" she said. "I was so excited to be a part of such a successful drag racing school! As soon as my dad told me I was going, I had a countdown on my phone just waiting till the day."
One of Camrie's favorite aspects of the school is the post-run analysis done in the classroom. Making the run and feeling the car react is one thing, but to watch the lap on video afterwards with Frank providing expert commentary on what went right/wrong is invaluable for students.
"During one of my passes," Camrie said, "I didn't go as straight as I could have. I remember my dad telling me after the school that Frank said 'Don't tell her what she did wrong,' and my dad was confused because he said his stomach dropped and he wanted to correct me right away. He came back and asked how I thought it went and I knew what I did wrong and that was important.
"I really enjoyed how the school made you feel comfortable and really focused on teaching the right ways to drive and stay safe. I would go back to the school for sure!"
For Ava, her racing career started when she became a part of the Caruso family. Marc and his father, Joe, embraced Ava within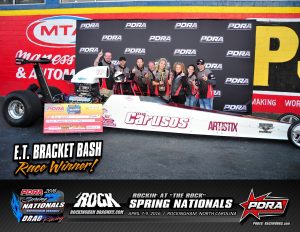 their racing program and she said it had a profound effect upon her.
"Being a part of the Caruso family not only affected my racing career, but it has also affected my life," Ava said. "If it was not for Joe Caruso and Marc Caruso, I would not be who I am today.  I am thankful for the support they give and the belief they have in me as a racer.
"Drag racing also brought Camrie and I together. We are now inseparable and I am happy to call her my sister and best friend."
Attending the school not only improved her racing ability, it improved her outlook on life. "Frank Hawley's school influenced the way I drive a race  car," she said, "but it also influenced the way I look at life. Frank taught me how watching my mistakes would make me want to try even harder to focus and fix the problem.  The advice he gave and the sharing of life lessons helped me understand what needed to be accomplished for my next run.
"Frank Hawley's driving school was not just about getting a new license; it was also about future confidence and learning from my mistakes."
UPDATE!  At her first race of the 2016 season Ava won the 2016 "Bracket Bash Championship" at the PDRA Spring Nationals in Rockingham, NC!
For more information on the school, programs offered, class dates and locations, visit www.frankhawley.com or call us at 866-480-7223!  Follow us on Facebook, Twitter, Instagram, YouTube and Google+!
www.frankhawley.com
866-480-7223