This has been a great year! We've covered the country from California to Washington to Pennsylvania with lots of places in between.
Our first full season with our Dragster Adventure thrilled drivers and produced some fabulous side-by-side racing and our school is still the only place student drivers can race dragsters in "side-by-side" competition.
Take a look at the video of the John Force Corporate Adventure day. You'll see John with his daughters Courtney and Brittney and his team driver Robert Hight enjoying a day with their sponsors at our school.
https://www.youtube.com/watch?v=mAYWcYHztLg
Our school is the perfect place for you, your friends, customers or employees to join in the activities during the Adventure program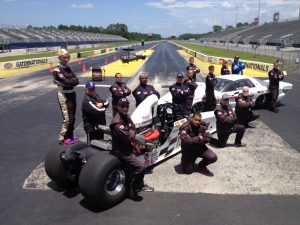 s.  We can plan a private session just for your group!
The fall weather is spectacular here in Florida. We're enjoying 70 degrees and sunshine while many people are stuck in the "polar vortex". So treat yourself to a trip to Florida. We have a full schedule of classes in everything from Super Comp and Super Gas to our 200 mph Alcohol machines.
Many dates and locations have been finalized for 2015, so if you can't make it to Florida this winter (although you should really try!), take a look at our other locations and decide what other race track will work for you or your group. https://frankhawley.com/class-dates-locations/
2015 will mark our third decade of providing excitement, thrills, education and fulfillment of many drivers' dreams. We would love to help make it a memorable year for you behind the wheel!
We look forward to hearing from you!
Frank
866-480-7223
www.frankhawley.com