Seems our last news left off with us heading to Summit Motorsports Park in Norwalk, OH where we had a terrific license class and Adventure program! Our 2-day license class had a range of experienced racers bringing their own cars to students just getting started.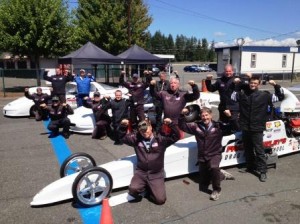 Next, our guys headed to Seattle for media rides for the 3rd Annual Rainier Cup at Pacific Raceways during the NHRA O'Reilly Northwest Nationals, followed by a great Super Comp/Super Gas licensing class the following week.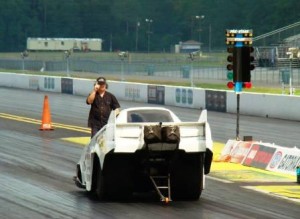 Then it was back home to Auto Plus Raceway in Gainesville, FL where the Top Alcohol Funny Car was put to work.  Welcome our newest TAFC driver – Denver!
As you read this we are at Maple Grove Raceway running a Super Comp/Super Gas license program, followed by our Dragster Adventure. Then back to Auto Plus Raceway for a Corporate Dragster Adventure, a SC/SG class, a TAFC class and then it will be out to Auto Club Dragway for the final west coast trip of the year.
Frank
Quotes from Recent Grads:
"I was impressed with how well everyone progresses in a short time. As a 35 plus year veteran of bracket racing I picked up some pointers and had a great time. Frank does a great job of keeping your attention politely explaining mistakes and also telling them they did good also." ~John and Lisa
"Just want to say thank you so much for the exhilarating and informative experience. Frank has a very unique way of teaching his subjects ( I am still trying to absorb all of it). I recommend anybody to experience Franks drag racing class." ~Wayne
"I can't say enough about the school and Frank I will be 64 this year and can honestly say I have never met anyone like Frank if this school was available when I was young and I took the class my life would certainly have taken a different course. I have never seen so many good people in a school of any kind and it's amazing it radiates from Frank to all staff and students." ~Larry
" Just wanted to say thanks for the wonderful experience, and fulfilling a dream I had thought unobtainable. The class was tremendous and very informative. Frank and his crew were great and the way you worked with my wife to arrange this was instramental in achieving my strong passion of being behind the wheel of a real drag car. Franks teaching goes further than the track, I have noticed changes in my daily driving and thinking, I have a great sense of accomplishment and confidence. Thanks again." ~Gerald
Upcoming class dates – give us a call at 866-480-7223 with any questions or to schedule a date!
September 23-24 – Gainesville, FL – SC/SG
October 9 – Fontana, CA ** Dragster Adventure
October 10 – Fontana, CA **Dragster Adventure (sold out)
October 15-16 – Fontana, CA – SC/SG
October 17 – Fontana, CA **Dragster Adventure (sold out)
October 28-29 – Gainesville, FL – TD
November 4-5 – Gainesville, FL – SC/SG
November 21 – Gainesville, FL **Dragster Adventure
December 2-3 – Gainesville, FL – SC/SG
December 4-5 – Gainesville, FL – PSM
December 4-5 – Gainesville, FL – TD
December 18-19 – Gainesville, FL – PSM
December 18-19 – Gainesville, FL – TD or Alky
December 30-31 – Auto Plus Raceway, Gainesville, FL – SC/SG
2015 CLASS DATES COMING SOON!!
www.frankhawley.com
866-480-7223