Located just outside of Houston in Baytown, Texas, Houston Raceway Park will host the School's 2-day licensing classes in Super Comp or Super Gas on April 4-5 as well as its Dragster Adventure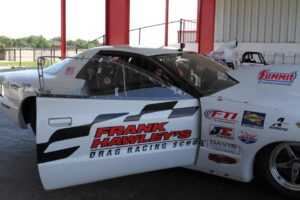 program on April 6, and no previous racing experience is needed to participate in any of the programs.
The two-day license course keeps a steady pace with plenty of action. Beginners are taught basic techniques and procedures for drag racing, while experienced racers focus on refining the mental aspect of the sport and honing their skills to bolster their win rates.
Classroom instruction is combined with in-car and on-track instruction in a safe, controlled environment, and drivers make progressively quicker runs down the dragstrip with video review afterward. Frank Hawley's valuable insights and personalized coaching highlight the experience while encouraging personal improvement.
"I've got lots of great memories of Houston Raceway Park, both from our School and my years racing fuel cars," said School owner Frank Hawley. "Houston has always been one of the fastest tracks in the country, and we're looking forward to licensing many new NHRA drivers there."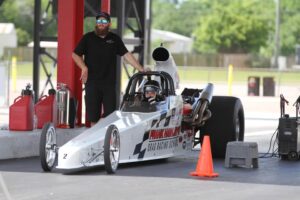 The famous and fun Dragster Adventure lets drivers compete in a thrilling side-by-side race. Perfect for friends, family, employees, customers, or anyone who's ever wanted to wheel a full-sized, competition-style dragster that can accelerate from 0 to 60 mph in 3 seconds and clock speeds of 130 mph in the quarter-mile, participation in the program can be purchased online at the following link – (Dragster Adventure).
"Frank's is the only school we have come through the Park and we value that relationship and partnership," said Seth Angel, Vice President and General Manager of Houston Raceway Park. "As an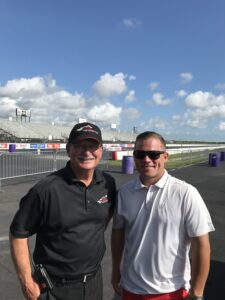 NHRA-sanctioned quarter-mile facility, we want Frank's students to get their licenses and start their journeys in the sport of drag racing here with us in Houston."
Houston Raceway Park is the only Texas stop on Frank Hawley's Drag Racing School's 2022 season schedule, so don't miss out on the once-in-a-lifetime chance to drive with Frank Hawley's Drag Racing School on April 4-6, 2022.
Seats are limited and courses sell out quickly. To reserve, please call 866-480-7223! Visit www.FrankHawley.com for all upcoming class dates and locations.
Contact Jeff Arend, 866-480-7223 x103, jarend@frankhawley.com or Paul Shields, 866-480-7223 x102, paul.fhdrs@gmail.com