We have confirmed a number of 2020 class dates!  Next year we'll be returning to some of our favorite tracks – Tucson Dragway, Auto Club Dragway, Houston Raceway, Route 66 Raceway, Summit Motorsports Park, Bandimere Speedway, Woodburn Dragstrip, and of course running classes all throughout the year at our home base of Gainesville Raceway!  We're still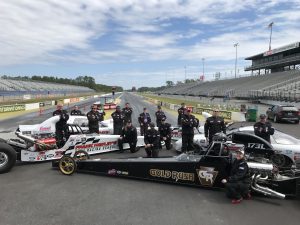 waiting to confirm dates at Las Vegas and Maple Grove Raceway.
Gainesville Raceway – January 21-22, February 4-5, February 18-19, March 17-18, March 24-25 Two-day competition license class; Dragster Adventure – March 27, 2020.   These are just the spring dates – we run here ALL YEAR!
Tucson Dragway – April 5 Dragster Adventure; April 6-7 Two-day competition license class
Auto Club Dragway – April 15-16 Two-day competition license class, April 17 Dragster Adventure
Houston Raceway – June 3-4 Two-day competition license class, June 5 Dragster Adventure
Route 66 Raceway – June 24-25 Two-day competition license class, June 26 Dragster Adventure
Summit Motorsports Park – July 13-14 Two-day competition license class, June 16 Dragster Adventure
Bandimere Speedway – July 27 Dragster Adventure; July 28-29 Two-day competition license class
Woodburn Dragstrip – August 2 Dragster Adventure; August 3-4 Two-day competition license class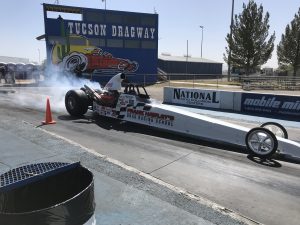 You can earn your competition license to 7.50 in the two-day competition license class in our car or yours, so please contact us and we can answer all your questions about this program.  This is a great foundation if you're building a car, moving up to a faster car or making the move up from Juniors.  Or maybe it's on your bucket list to take the class.  You'll learn so much more than how to drive the race car! Frank's renowned "Personal Performance Development" classroom sessions cover the physiology of how your mind and body work together.  Participants will learn how to mentally prepare, perform at the highest level, improve focus and block out distractions.  Frank teaches how to practice more effectively whether at the track, at the shop or at home.  He'll share techniques on how to remove the emotional baggage (everybody has some) that can often disrupt good performance .
If you're looking for a fun day driving a dragster, the dragster adventure is for you, friends, customers and employees.  The Dragster Adventure is a fun course specifically designed for drivers that want to "DRIVE A DRAGSTER" and you can even compete in "SIDE-BY-SIDE" racing.  This program does not have the in-depth classroom sessions that our competition course does, but is great for team building and group events too!  Group dates are available on request.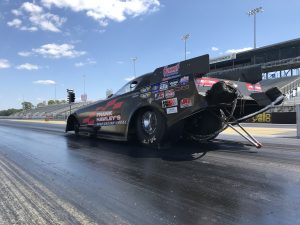 If you're currently racing and are ready to move up to a faster car, check out the 200 mph class!  These upgrade courses are designed not only for those seeking to compete in Nostalgia Funny Car, Pro Mod, Top Dragster, A-Fuel Dragster, Top Alcohol Dragster, but also numerous other types of programs such as Super Quick, Quick 16 Shootouts, Super Pro, Big Money Bracket Races or anywhere a competition license to run quicker than 7.49 in a quarter mile is required.  You can earn  your license to 6.00 in these classes. Frank Hawley's Drag Racing School offers drivers who are looking to upgrade their current NHRA competition license to 3A or 3B or 2A or 2B in this unique one day course.  Participation in this course requires a strong drag race history or successful completion of the Super Comp or Super Gas Course.
Call us with your questions or to book.  Seats are limited in all programs and pre-registration is required.
Please call Jeff Arend or Paul Shields at the numbers below with your questions!
Jeff Arend, jarend@frankhawley.com, 909-973-8279 c
Paul Shields, paul.fhdrs@gmail.com, 904-472-6312 c
866-480-7223