Recently a group of corporate executives got their first introduction to NHRA Drag Racing courtesy of John Force Racing, Just Marketing, Inc. and Frank Hawley's Drag Racing School. The group attended and competed in Frank Hawley's Dragster Adventure Challenge at the Strip in Las Vegas. The private session included members of a number of America's top companies.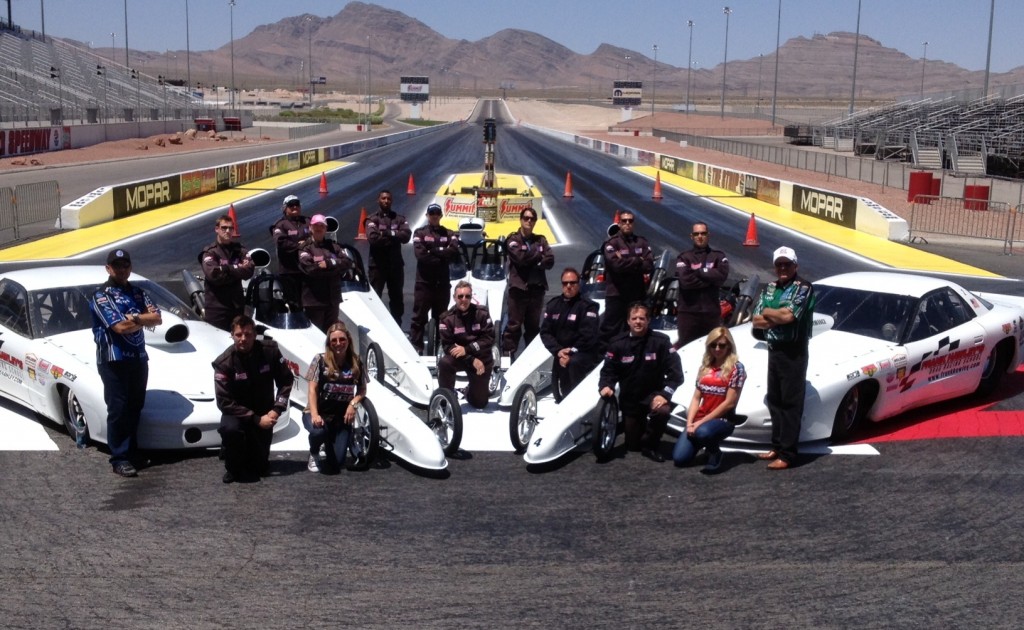 "We are constantly working to grow NHRA drag racing as well as our race teams. In order to grow our sport you've got to get people excited about it and I couldn't think of any better way to do that than to get them behind the wheel of a dragster," said Force. "Hawley and I have worked together for years and I don't know anyone else I'd want to represent John Force Racing and our sport more than Frank Hawley and his team."
"It's always a lot of fun to work with John," said Hawley. "John's entire team was there – John, Robert, Courtney and Brittany. Each one of them pitched in and helped make this a memorable day for all of the participants. Everyone was thrilled when they got the chance to get behind the wheel and blast down the track."
Following rides in the school's 2-seat race cars, each participant made practice runs in the school's Adventure Dragsters prior to competing in the side-by-side Dragster Adventure Challenge.
"I was impressed, but not surprised by how competitive these folks were. They absolutely loved the side-by-side racing," said Hawley. "It was a great day that would not have been possible without the great planning and organization of the folks at Just Marketing. They handled everything from a cocktail reception the night before to road signs and decorations in the suites! They are a very well organized marketing group and a pleasure to work with."
Frank Hawley's Drag Racing School operates at tracks across the country. If you or your group is interested in the Adventure of a lifetime, check out the school at www.frankhawley.com or give them a call at 866-480-7223.