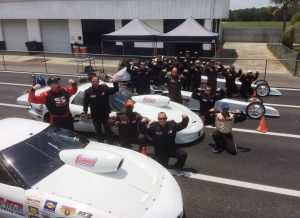 Frank Hawley's Drag Racing School is coming to Route 66 Raceway in Joliet, IL June 30-July 2!  "This is the first time we've ever brought the school to Chicago and we are really excited," said school founder Frank Hawley.  "I spent several years living in Chicago when I was driving the Chi-Town Hustler Funny Car, so it's good to be back.  The facility in Joliet is first class and the staff has been extremely helpful in planning our trip."
"There are different reasons drivers attend our courses," said school founder Frank Hawley.  "Some are looking to get a competition license while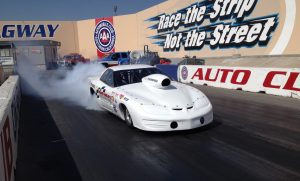 others just want to drive a fast dragster and check another item off their bucket list.  Every class has a combination of experienced racers and folks that have never been down a drag strip.  The course is designed to work for drivers with various levels of experience."
There are still seats open in the Super Comp/Super Gas class on June 30-July 1.  "The two-day Super Class allows drivers of all backgrounds the opportunity to earn their NHRA competition driver's license in the school's Chevy Performance 572/720R equipped Super Comp Dragsters or Super Gas Firebirds.  For drivers that already have their own car, the school offers a "bring your own car" program that gives drivers the opportunity to enjoy the same driving course behind the wheel of their own race car.  No experience is necessary to take the course.
For those that are simply looking for the thrill of blasting down the quarter mile, the Dragster Adventure is offered on July 2nd.  The Dragster Adventure starts at just $399 for the half day program, or $599 for the whole day program with SIDE-BY-SIDE racing. Due to the tremendous response, the Dragster Adventure is sold out on this date, but we are taking names for cancellations.
Seats are limited and advance registration is required, so call now to reserve your seat for the June 30-July 1 competition course.
Call Jeff Arend at x103 or Paul Shields at x102 at Frank Hawley's Drag Racing School, 866-480-7223 or visit the school's website at www.frankhawley.com for all the upcoming dates and locations.  Follow us on Facebook, Twitter, Google+, YouTube and Instagram!
866-480-7223
www.frankhawley.com