The Mickey Thompson Dragster Challenge days are always exciting, but this time we were fortunate to introduce some special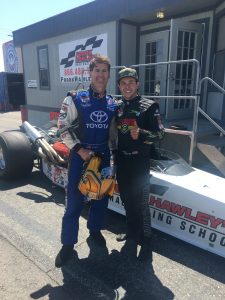 celebrity guests to the thrill and excitement of drag racing!  With Mickey Thompson distributors from Freedom Tire, Les Schwab Tire Centers and Keystone Automotive competing against special celebrity guests Doug and Brad DeBerti from the Discovery Show "Twin Turbos", and Eric Barron who drives the Mickey Thompson Lucas Oil Off Road Race Series truck, you just knew it was going to be a fun and special day!
In the celebrity guest final Brad DeBerti had an almost perfect .001 reaction time to take out a red lighting Eric Barron.  In the distributors final, Frank Hernandez had a great light to take out Scott Borden to win the trophy and bragging rights of the drivers from Les Schwab Tire Centers.
All in all, it was a great day of team building and drag racing.  "Frank Hawley and his team of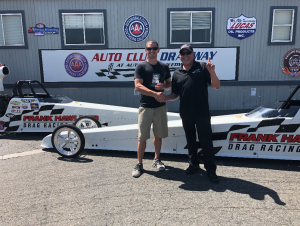 professionals have done it again! Said Kirk Fenn, National Accounts and Business Development from Mickey Thompson.  Our guests were treated to an amazing day of learning how to drive these dragsters."
The School has been relying on the high quality and consistent performance of Mickey Thompson drag slicks for all our race cars for many years now."  "As the premiere drag racing school in the country we travel to a lot of different locations and we see all types of track surfaces and temperatures."  "We know we can rely on Mickey Thompson slicks to give us the traction, durability and performance for all our students," said Frank Hawley.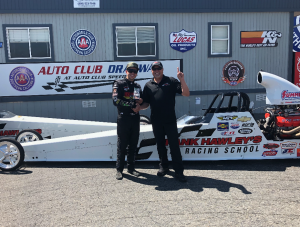 Contact us about a fun day for your group! The Dragster Adventure Challenge is great for team building, employee reward, customer promotion, sponsor day, etc.  Call Jeff Arend x103 or Paul Shields x102 at 866-480-7223 to discuss providing a most memorable day for
your group.  Private group events are scheduled on demand, as are the 200 mph class dates in the Funny Car or Dragster.  Information on all the programs offered by the School, class dates & locations can be found on our website at www.frankhawley.com
866-480-7223