Jun.22.2021

Travis Shumake Follows in Father's FC Footsteps at FHDRS

Written by Ainsley Jacobs

In drag racing, Tripp Shumake's name is synonymous with success. A member of both the Cragar Five-Second Club and Crane Cams Funny Car 250-mph Club, a two-time NHRA Funny Car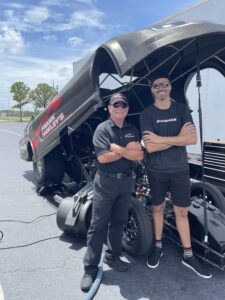 national event winner, and the fourth man in history to drive a Funny Car over 250 mph, Tripp never hesitated to pursue his dreams. Now, with the help of Frank Hawley's Drag Racing School, Tripp's son, Travis, is following in his father's footsteps as he pursues his own drag racing career while also seeking to be the first openly gay pilot of a 10,000+ horsepower Nitro Funny Car.
Although Travis only saw Tripp race a handful of times as his father's career was already well established before he was born in 1984, he got to enjoy witnessing the celebrity status that came with his father's achievements. "I always knew he was famous, and as a kid I remember it being normal to just walk behind the ropes and into someone's pit and trailer which other fans would consider a VIP experience," Travis recalled of his youth spent hanging out with legends like John Force and Frank Hawley.
Travis was destined to find his niche in racing, just like his father, and began chasing speed when he was young. "My dad wanted to bond with me, so we started racing shifter karts when I was 12," shared Travis, now 36 years old, of the memories the men made together. Tragically, though, Tripp lost his life in 1999 when he was struck by a hit-and-run driver while riding his motorcycle near the family's home in Arizona.
After such a devastating loss, Travis stopped pursuing his karting career but still had a strong love for drag racing. He had loved spending long nights in the garage with his dad working on Paula Martin's Funny Car, and toyed with the idea of rekindling his involvement in the sport.
"I always knew this was going to be a thing, it was just a question of when," he asserted confidently. While at the track in Gainesville, Florida, in the spring of 2020, Travis was inspired by hearing some friends reminisce about his father and he became more motivated to reconnect with that side of his heritage. However, one of those conversations also coincided with the question of how to bring more diversity and inclusion to drag racing. "We were talking about getting five drivers to put a small rainbow sticker on their car in June for Pride month and I said… or I could just become the first gay drag racer and do it myself. The decision had been made!"
A few short days later, Travis had put a plan in motion with an eventual goal of racing Nitro Funny Cars. To start, he contacted his father's longtime friend and two-time NHRA Funny Car World Champion, Frank Hawley, and arranged to attend Frank Hawley's Drag Racing School in May of 2021 to obtain his NHRA Super Comp license.
"It was a wonderful experience overall and the entire class of 16 students was very supportive of one other," said Travis, who especially enjoyed the biomechanics lessons and visual acuity tests that were a part of his studies at the School as well as different techniques to focus his mind. "Frank taught me that simple isn't the same as easy and that the most skilled part of driving a fast car is when it's at its slowest speeds."
Travis showed tremendous talent during his time at Frank Hawley's Drag Racing School and clocked consistently quick reaction times, just like his father used to do. Moving forward with his plan of one day piloting a Nitro Funny Car, he returned to the School to make his first passes in a true Funny Car and obtain his NHRA Nostalgia Funny Car license.
On June 15, Travis traveled from his home in New York City and arrived at Florida's Bradenton Motorsports Park ready to get down to business. His first challenge was simply learning how to get into the Funny Car itself, as his 6'4" height made it a bit of a challenge – especially while fully dressed in a fire suit, helmet, HANS device, and other accessories.
"Firing up the car for the first time, though, now that was exciting. Sitting behind the engine and seeing the first puffs of smoke come out of the headers was one of the things I've waited my whole life to experience," noted the man about his drag racing bucket list.
Getting to spend a full day working one-on-one with Frank Hawley, instead of in a shared classroom environment with the Super Comp course, was instrumental to Travis's triumphs during his Funny Car experience. From staging to launching and learning to control the center-steer machine to the 1,000-foot mark and finally popping the parachute for the first time, Travis couldn't stop smiling.
"My biggest challenge was keeping the car in the groove. Frank kept telling me not to wait until half-track to start steering, but the first one or two seconds I'd get thrown back in the seat and the clutch dust would come up and everything was vibrating so it was almost over by the time I felt fully in control," laughed the rookie racer.
By day's end, Travis had successfully completed his NHRA Nostalgia Funny Car licensure and was already planning his return to continue pursuing his NHRA Nitro Funny car credentials as well.
"Over the years, we've had many second-generation drivers come through the school, but having Tripp and Susie Shumake's son Travis attend was really special. Maybe the ability to drive race cars is genetic, because Travis did a great job," shared Hawley, who remembers his good friend and Travis's father as one of the best Funny Car drivers of all time.
"Driving one of these cars is a skill, and I'm going to continue to develop that so I can pursue my Nitro career," affirmed Travis, who has a goal of competing in the 2022 NHRA Camping World Drag Racing Series while making history as the first openly gay Nitro Funny Car driver. "We're doing this y'all, so get on board!"
By day, Travis works as an executive at the NYC-based Clinton Foundation nonprofit organization and has tremendous experience in fundraising, public relations, brand management, and media/marketing. The skills that he has developed so solidly during his professional career, coupled with his strengths as an LGBTQ+ activist, will undoubtedly aid him as he pursues financial backing and partnerships for his drag racing initiative.
"This is an opportunity to bring both the LGBTQ+ dollar and fans into drag racing. People in the sport aren't against it, there just hasn't been an opportunity to show support before, so I am taking on the challenge," he shared. "Drag racing has always been ahead of the curve in diversity, so this just feels like another logical milestone to accomplish before other racing leagues, like we always do."
Travis's experiences at Frank Hawley's Drag Racing School, and throughout his journey towards competing at the highest level of the sport, have allowed him to deepen his understanding of and passion for drag racing that shaped his relationship with his father.
"I wish he could be here to see me doing this, but, if he was, I think I'd have already been doing it years ago," added Travis who is excited to explore the genetic connection between him and his father. "Hopefully, I'll be able to keep that quick Shumake foot on the throttle through the lights, just like he used to do, with a little less fire and a lot more speed to continue his legacy."