Sep.13.2019

Jay Leno…Behind the Scenes of Episode 502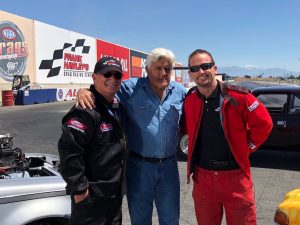 This season of "Jay Leno's Garage" marks the second time that Frank Hawley's Drag Racing School has had the good fortune to work with Jay Leno and his team.
A couple of years ago Jay jumped behind the wheel of a Super Comp Dragster and made some 8-second passes under the tutelage of World Champ & school founder Frank Hawley and guest instructor Pro Stock Champ Erica Enders.
"As I remember, Jay did a pretty good job considering it was his first time ever in a dragster", said Hawley.
Earlier this year a Leno producer contacted Hawley again but this time the project would be completely different.
"Leno was doing a piece on forgotten and not very popular cars," explained Hawley.  "They were looking for a couple AMC cars, a Pacer and a Gremlin.  They wanted to see if anyone still had these cars and better still had anyone modified them for drag racing," continued Hawley.  "Well they found a couple cool cars and wanted to see them race one another.  To make sure everything was legit, they asked the school to help arrange the race and if we could, provide the drivers.  I said of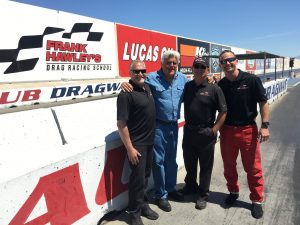 course."
The race would be at the school's west coast location at Auto Club Speedway in Fontana, CA.  After a fair amount of deliberation, it was agreed that school owner Frank Hawley and long time school consultant and current Nitro Funny Car driver Jack Beckman would be the designated drivers.
"Frank called me and told me about the show and what we'd be doing and I said, 'count me in'," said World Champ Jack Beckman.  "The first time we saw the cars was on the day of the shoot at Fontana.  They looked pretty cool!  A supercharged Pacer and a Gremlin with carburetors and a tunnel ram.  By coin toss I got the Pacer." continued Beckman.
With no practice runs, Hawley and Beckman got strapped in for the big race.  The outcome is featured on the Jay Leno Garage show, Episode 502 — link below to the full episode!
http://www.cnbc.com/live-tv/jay-lenos-garage/full-episode/cult-classics/1599337539780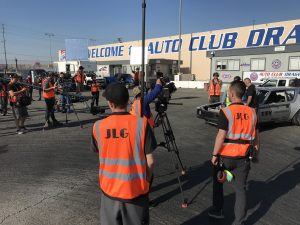 "It really was a fun day. School employee and Funny Car driver Jeff Arend was on hand to help co-ordinate everything and I really appreciate Jack taking a day out of his busy schedule to help out.  Jay Leno and his team are always great to work with.  A great time was had by all," said Hawley.
For more information on the school go to www.frankhawley.com or give us a call at 866-480-7223!
866-480-7223