Sep.26.2017

Sunoco Continues to Fuel Hawley's School
As the Official Fuel of the NHRA, Sunoco Racing Fuels provide the juice to make the fastest racers on Earth collect win lights.  As a partner of Frank Hawley's Drag Racing School, Sunoco gives new racers the opportunity to feel the power of the most utilized fuel in American motorsports.  The Pennsylvania based company has a 40-year track record of innovation and winning performances, and distributes gasoline to more than 500 race tracks and 50 racing series in the United States.
Rick Williams, the operations manager and managing partner of Southern Racing Fuels, handles Sunoco's racing accounts for all of Florida and the Caribbean and has been a distributor of the brand for nearly 30 years said,  "The School provides a great opportunity for us to promote our racing fuels to both new and experienced drivers across the country."
"Sunoco Racing Fuels provide our customers with power and consistency at our School.  We enjoy the relationship with Sunoco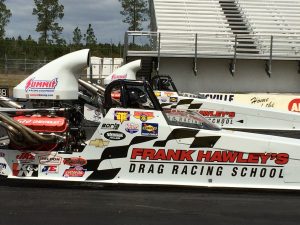 and Rick Williams at Southern Racing Fuels.  They are great to work with." said Hawley.
Many of America's top motorsports and automotive brands partner with Frank Hawley's Drag Racing School.  For Sunoco, the School's ability to promote them, through its events and press releases, has been a strong selling point throughout the relationship.
"The School does an excellent job of promoting our product and our brand," Williams said.  "With the support that we get and the press releases Frank and Lana do, they are on top of it.  Through their marketing people, we get their releases, we see the information going out and it's shared with Sunoco corporate in Pennsylvania and they love it."
We plan to get some of the Sunoco executives to come and spend a day and strap them into one of those hot rods and send them down the strip.  I know they'd love it!" said Williams.
866-480-7223
For information on all the programs, class dates & locations at Frank Hawley's Drag Racing School, please visit our website at www.frankhawley.com!  You can also call us at 866-480-7223!  Our 2018 class dates are coming in slowly, so check back often.