Aug.22.2017

Mickey Thompson Adventure Day!

Frank Hawley's Drag Racing School and Mickey Thompson Tires have been creating memories together for many years and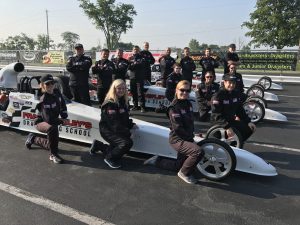 their event on July 19th at the famed Summit Motorsports Park was no different.
Under beautiful skies, Mickey Thompson pitted some of their best employees and customers against each other in a 10 second, 130 mph battle to the finish line.
Kirk Fenn, MT National Accounts and Business Development, had this to say about the event, "Our employees and customers were jumping out of the cars with grins of excitement, especially our VP of Sales, Perry Lease".
At the end of the day there was only one person left standing and that was Mark Klacik from Cyclone Auto.  "Participating in the Dragster Challenge is as exhilarating as when I scuba dive with sharks!"  "If you listen to Frank closely and follow what he says, you too could win."
"We have been relying on the high quality and consistent performance of Mickey Thompson Drag slicks for all our race cars for many years now".  "As the biggest drag racing school in the country we travel to a lot of different locations and we see all types of track surfaces and temperatures." "We know we can rely on Mickey Thompson slicks to give us the traction, durability and safety for all our students", says Frank Hawley.
Contact us about a fun day for your group!  The Dragster Adventure Challenge is AWESOME for groups – team building, employee reward, customer promotion, sponsor day, etc.  Call Jeff Arend x103 or Paul Shields x102 at 866-480-7223 to discuss providing a most memorable day for your group!  Read about all the programs on our website and see what class dates are coming up!  Private group events are scheduled on demand, as are the 200 mph class dates in the Funny Car or Dragster.
866-480-7223