Justin Ashley's incredible rookie season just keeps getting better and better.  At last weekend's Lucas Oil Nationals in Brainerd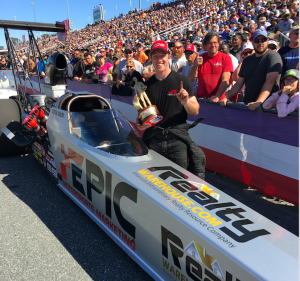 Minnesota, Justin defeated number 1 qualifier Gord Gringles in the final round with a low ET of the event 5.237. For those keeping score, Justin has won 2 of the 3 finals that he has been in this year. "It's been a dream season so far and I know that I am very blessed. Even though I had gotten licensed last year, I went back to Frank Hawley's Drag Racing School for some more instruction earlier this year. I spent 2 days driving Frank's Top Dragster and I can't tell you how much it helped me. I actually ended up winning my first National Event at the Gatornationals a couple of weeks later! There are a lot of distractions at the races but Frank has taught me how to block them out and be better focused and mentally prepared, and that's a big part of our success." said Justin Ashley.
Justin's father Mike Ashley had this to say. "I was a very successful driver for many years and I didn't even trust myself to teach Justin. I am a father and love my son and only wanted what was best for him. Frank Hawley's Drag Racing School was the only choice in my opinion. Some people may not know this but Justin had never driven a race car before he went to Frank's school. I have always said that success comes when preparation meets opportunity. We have a great team with Randy Meyer but I am 100% sure that without Frank's impact on Justin's mental and physical state, these victories wouldn't have been possible!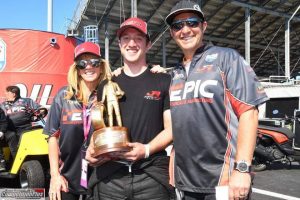 "Having worked with Justin's dad Mike for several years, I was very happy to work with Justin when Mike called.  In fact Mike was responsible for my opportunity to get back in the seat of a Nitro Funny Car a few years ago.  Justin's a very bright and highly motivated person, a lot like his dad.  I think we'll be hearing more from the Ashley family in the future." said Frank Hawley.
Justin Ashley's next race will be at the famed US Nationals Aug 30-September 4th.
       Frank Hawley and staff have been helping drivers for many years.  Contact us at 866-480-7223 to help you whether you're just getting started or if you've been racing for awhile.
Jeff Arend, 866-480-7223 x103, jarend@frankhawley.com
Paul Shields, 866-480-7223 x102, pshields@frankhawley.com
866-480-7223