Feb.01.2017

See You at a Frank Hawley Class This Year!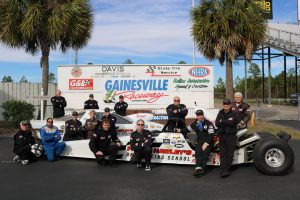 With such great locations on the schedule we hope almost everyone in the country has a chance to be a part of one of our programs.  "We've added The Strip at Las Vegas to the schedule in addition to returning to our many of our favorite tracks at Tucson, Fontana, Chicago, Houston, Woodburn, Norwalk, Maple Grove, Topeka and Earlville" said Hawley.  "The next several weeks we'll be running classes at our home track in Gainesville, Florida and then our crew will be heading west with stops in Tucson and Fontana. We'll be almost everywhere!"
So if your goal is to join the list of successful Hawley grads in one of the school's world class Licensing Programs or just have a blast racing against your friends in one of the school's Dragster Adventure Programs, please join us in 2017!
Go to FrankHawley.com or call 866-480-7223 to speak to Paul Shields (x102) or Jeff Arend (x103).
Click here for our calendar of dates & locations.  Remember, seats are limited and pre-registration is required at all of our classes.
Here's a taste of the Dragster Adventure Program which is great for you, your friends, your customers or your employees!  And you can book your seat on-line here!
And here's some footage of a SC license run during the competition program:
Lots of dates are available for the the 200 mph classes, but these dates are on request, so call us to discuss upgrading your license in the dragster or funny car!
Upcoming class dates:
Gainesville Raceway SC/SG/BYOC competition license: February 14-15; February 28-March 1; March 21-22;  May 30-31; July 11-12;  September 26-27; November 7-8; December 5-6; December 27-28
Gainesville Raceway Dragster Adventures:  March 23; March 24 (sold out); December 1
Tucson Dragway: April 6-7 for SC/SG/BYOC competition license class and April 8 for the Dragster Adventure
Auto Club Dragway SC/SG/BYOC competition license classes: April 12-13; October 18-19
Auto Club Dragway Dragster Adventure dates: April 14, April 15, April 21, April 20, April 26, April 27
Royal Purple Raceway: May 10-11 for SC/SG/BYOC competition license class and May 13 for Dragster Adventure
The Strip at Las Vegas SC/SG/BYOC competition license classes: May 17-18; October 10-11
The Strip at Las Vegas Dragster Adventure dates: October 12, October 13
Route 66 Raceway: June 21-22 for the SC/SG/BYOC competition license class and June 23 & June 24 for the Dragster Adventure
Woodburn Dragstrip: June 29-30 for the SC/SG/BYOC competition license class and July 1(sold out) and July 2 for the Dragster Adventure
Summit Motorsports Park: July 17-18 for the SC/SG/BYOC competition license class and July 20 for the Dragster Adventure
Maple Grove Raceway: August 15-16 for the SC/SG/BYOC competition license class and August 17 & August 18 for the Dragster Adventure
Heartland Park:  September 6-7 for the SC/SG/BYOC competition license class and September 9 for the Dragster Adventure
Tri-State Raceway:  September 16 for the Dragster Adventure
Contact Paul Shields at 866-480-7223 x102, 904-472-6312 c, pshields@frankhawley.com
Contact Jeff Arend at 866-480-7223 x103, 909-973-8279 c, jarend@frankhawley.com
www.frankhawley.com