By Brandon W. Mudd
The Frank Hawley Drag Racing School, led by the two-time NHRA Funny Car champion, has announced the co
ntinuation of its relationship with the Mickey Thompson Tire Company, an organization built by an equally-important figure in racing history. Mickey Thompson Tires and the school first worked together in the mid-1990s when Hawley was based in Pomona, Calif., and has spent 20 years creating the top drag racing school in the world.
Begun when Mickey Thompson Tires Vice President of Sales and Marketing Ken Warner joined forces with Hawley at Pomona, the partnership has evolved into a pairing that has seen incredible benefits for both sides. Kirk Fenn of the Mickey Thompson National Accounts Business Development Department, said the relationship has had incredible rewards for them.
"Frank was looking for the best products when he was going through his suppliers with his cars for the school and it was the perfect fit for us and for Frank," Fenn said. "It allows anyone who's going through for certification to be exposed to the best tires that are out there for drag racing for those classes and those categories. "
"Not to mention it works very well for us for when we're doing relationship building with clients or customers. It really helps give them some hands-on experience to better sell and speak to the product when they're marketing it out there."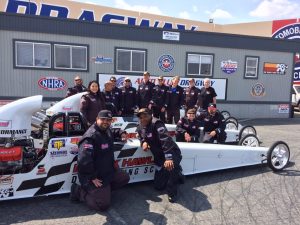 Hawley, an NHRA Nationals winner in both Funny Car and Top Fuel as the pilot of the legendary Chi-Town Hustler, said Mickey Thompson Tires has been an amazing partner for the school.
"It's always important to have great traction and a good handling race car but it's even more important when you are learning to drive.  We've trusted Mickey Thompson Tires at our school for years!"
The most successful display for the two entities has been the Mickey Thompson Dragster Adventure. The program provides training at various drag strips across the country with the students racing in a Frank Hawley Drag Racing School dragster at the end of the day.
"We usually do two a year and I've been doing that for almost eight years and managing it for the last year and a half," Fenn said. "We have nothing but rave reviews. People coming into it kind of skeptical in some cases, kind of 'What is this all about?' and after they make their first pass, they get out and get their helmet off…they're like a little kid who's just had their first exposure to a roller coaster."
The Adventure has seen some amazing highlights, from its most recent winner Floyd Carter at Fontana, Calif., April 21, to a group of Navy SEALs last spring. While working with the SEALs is an unforgettable experience for both parties, the primary goal for Mickey Thompson is to provide education to customers and staff. The company also has a sizable involv
ement in off-road racing and provides an all-new experience to staff members who are unfamiliar with drag racing, although that's not always the case.
"Floyd was a great example because he runs a speed shop so he was very in touch with the product on the drag racing side," Fenn said, "but yet, was still absolutely floored by the experience. We go into it with a high-level objective, but we fine tune it based on what we want to get out of it and how the partnership is going to grow together."
At the end of the day, success is measured in profit and the Frank Hawley Drag Racing School has definitely provided the opportunity for the Mickey Thompson Tire Company to expand both its reach and its customer loyalty.
"It certainly provides more of a hands-on takeaway," Fenn said. "The more familiar our customers, dealers, and the end users become with a product, the more receptive they are to talk about it and essentially, sell it. That tends to be a positive take away and going back to the Fontana event, we had customers there who have since ramped up there overall volume of Mickey Thompson product.
"That's an easy metric to see that we've accomplished our goal."
866-480-7223