Jan.27.2016

2016 Class Dates and Locations – Be There!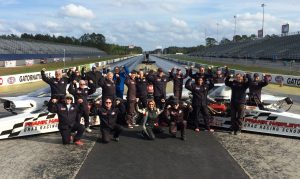 With over a dozen locations on the schedule we hope almost everyone in the country has a chance to be a part of one of our programs.  "We've added new locations like Route 66 Raceway in Chicago, Illinois and  Woodburn Dragstrip in Woodburn, Oregon in addition to all of our regular stops," said Hawley.  "The next several weeks we'll be running classes at our home track in Gainesville, Florida and then our crew will be heading west with stops in Tucson and Fontana. We'll be almost everywhere!"
So if your goal is to join the list of successful Hawley grads in one of the school's world class Licensing Programs or just have a blast racing against your friends in one of the school's Dragster Adventure Programs, 2016 will be your best opportunity ever!
Go to FrankHawley.com or call 866-480-7223 for your ticket to excitement!
Click here for our calendar of dates & locations.  Remember, pre-registration is required at all of our classes.
Here's a taste of the Dragster Adventure:
Contact Paul or Jeff  with your questions or to book your class!
 Paul Shields, pshields@frankhawley.com, x102
Jeff Arend, jarend@frankhawley.com, x103
www.frankhawley.com
866-480-7223