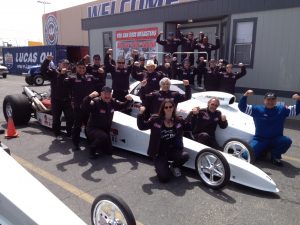 Our guys and the "Hawler" have been racking up some miles already this year. During the last few months we've held license classes, Dragster Adventures and Corporate programs at Auto Plus Raceway in Gainesville; Auto Club Dragway in Fontana; Royal Purple Raceway in Houston; Atlanta Dragway (private corporate group), John Force Racing Corporate Group (pictured below) in Las Vegas; Gateway Motorsports Park in St. Louis; and now we're off to Summit Motorsports Park in Norwalk where we'll be holding our popular two-day Super Comp/Super Gas
license class, a corporate adventure and our popular Dragster Adventure!
Then we'll be heading to Seattle to do media rides for the 3rd Annual Ranier Cup with class the week following the NHRA O'Reilly Northwest Nationals at Pacific Raceways.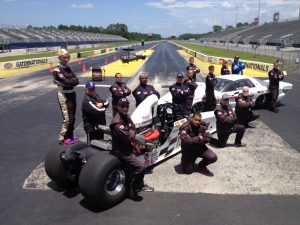 In between regular classes we've been having some fun working with Discovery Canada (full release soon) and Top Gear !
Attached is a short video produced by one of our grads from our June Super Comp licensing class at Auto Club Dragway in Fontana, CA. It's a very nice piece with some aerial shots from a 'drone' camera. Click on the following link to watch. Hope you like it!
https://www.youtube.com/watch?v=rQvGlLct0lo
Frank

Here are some upcoming class dates – give us a call at 866-480-7223 with any questions or to schedule a date!
August 6-7 – Seattle, WA – SC/SG; August 19 – Gainesville, FL – TAFC; August 26 – Gainesville, FL – TAFC;
September 3-4 – Reading, PA SC/SG; September 5 – Reading, PA **Dragster Adventure;
September 23-24 – Gainesville, FL – SC/SG; October 10 – Fontana, CA **Dragster Adventure;
October 15-16 – Fontana, CA – SC/SG; October 17 – Fontana, CA **Dragster Adventure;
October 28 – Gainesville, FL – TD; November 4-5 – Gainesville, FL – SC/SG;
November 21 – Gainesville, FL **Dragster Adventure; December 2-3 – Gainesville, FL – SC/SG;
December 4-5 – Gainesville, FL – PSM; December 18-19 – Gainesville, FL – PSM
December 30-31 – Auto Plus Raceway, Gainesville, FL – SC/SG